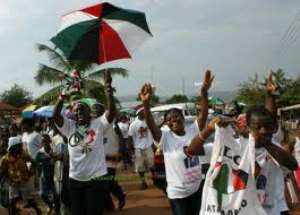 Many were those who took time to digest the first part of this article while others who see nothing good in whatever the National Democratic Congress does, started asking for statistics of institutions of higher learning built in Akuapiman, Ahantaman, Bosomeman, Wassaman Nzimaman --------- , man, man man, man-----, as if I was talking about institutions of higher learning in the whole of mother Ghana. I was rather talking about the NDC government's wisdom in resourcing the Human Resource base of Sefwiman so that there can be leaders to lead Sefwiman in the near future.
Others out of ignorance or hatred come out to say that the NDC first ruled for 19 years without anything better for the country. They opined that the NDC ruled for another eight years making it 27 years and I was inferring in the first part of this article that over 24 years of NDC's poor administration equal better education in Sefwiman. All I asked myself was that are these people coming from a different planet or don't they know when the 4thRepublic of Ghana came into existence? Or they criticize for criticizing sake.
It then occurred to me that "the best judge in this world is your own conscience" and if truly they are not aware that 1992 marked the birth of the 4th Republic of Ghana then they need to contact my son Jeff Aduhene-Kwarteng, a second year student at the Juaboso Secondary School to help them with some tutorials in Ghanaian Political history.
To the opponents of the National Democratic government who criticize it for criticizing sake because they think the main function of the opposition is to oppose, I say to you that "before you contradict an old man, you should endeavor to understand him" courtesy of George Santayana.
Understand the plight of Sefwiman in terms of education and other infrastructures before you open your mouth to say something negative about the NDC and Sefwiman.
To others like General Abubakar of DEBEAT FM, I thank you for your extensive research on the establishment of institutions of higher learning in Sefwiman.
Now, with NDC administration, Sefwiman can boast of six government approved Private Colleges in Sefwiman. They are Otu Sec/Tec and Mark Commercial College all in Sefwi Bibiani which has produced a lot of competent Secretaries in Sefwiman and Ghana at large. The others are Rozzel College at Sefwi Boako, Bennie Appenten Senior High School at Sefwi Dwenase, Global Professional College and St. Andrews Senior High Schools at Sefwi Asawinso and Bonsu Nkwanta respectively.
In addition to the seven government Senior Higher Schools I mentioned in the first part one of this piece there were four more I forgot to mention. These were Bodi Senior Higher School, St. Joseph's Senior High School at Tanoso, and The integrated Community College (ICCES) at Sefwi Boako.
Once again, the National Democratic Congress being a party that respects women remembered the saying of one of the great sons of Ghana that "if you educate a man you educate an individual but if you educate a woman you educate a nation" set up the first women's college in Sefwiman. This goes a long way to prove the Party's respect for women and the importance it attaches to a girl child's education.
I know of the plight of the people of the Juaboso Constituency when it comes to your road network especially in the rainy season but bear with the government for it is working on that.
Long live Ghana, long live Sefwiman, long live Juaboso Constituency and long live NDC
Eye Zu Eye Za!!!