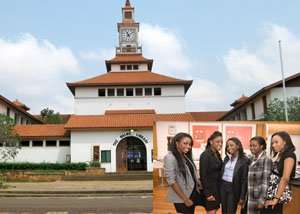 Information from the National Council for Tertiary Education (NCTE) puts the current statistics of Nigerian students in Ghanaian public universities at over 2,000 out of a total student enrolment of 77,005 in these schools.
This number from the NCTE significantly contradicts data presented by the governor of Central Bank of Nigeria (CBN), Mallam Sanusi Lamido Sanusi, which shows that in 2011 there were about 71,000 Nigerians studying in Ghana. Whatever the actual number, this figure (number of Nigerian students) is expected to significantly rise in the coming academic years.
Importantly, Nigerian students are almost two-thirds of the total international student population, therefore their plight virtually encompass the plight of other foreign students in Ghana.
In 2011 data of the NTCE indicated that the number of international students from 62 other countries came down to only 906.
Data from private universities in Ghana are scanty, but it is believed that there are perhaps more Nigerian students in these institutions than in the public institutions captured by the NTCE data.
The rampant industrial actions in Nigeria account for why Nigerian students prefer schools in Ghana.  Other factors responsible for the massive migration are the long, undue and corrupt processes students are subjected to before they can secure admission, lack of structural educational system, in-conducive environment and insecurity.
However, the Nigerian private universities are more stable. But apart from the huge fees students are made to pay, one can hardly trust if they are accredited or not; hence, the massive migration to Ghanaian universities.
It has been established that Nigerians prefer to school in Ghana rather than face several problems beyond their control in Nigeria. They have got admissions here and have settled into the kind of educational peace they have always dreamt of.
Onome Elvis Enakemu, a level 300 student and president of the National Association of Nigerian Students (NANS) of All Nations University in Koforidua, the Eastern regional capital of Ghana, who was interviewed by the Sunday Tribune newspaper of Nigeria recently recounted his ordeals in his quest for University education in Nigeria: 'Before I finally gained admission into All Nations University, Koforidua, I had the privilege of passing through four Nigerian universities namely; Anambra State University of Science and Technology and the University of Port Harcourt. Comparing the system in Ghana with that of Nigeria is like comparing death to sleep, in the sense that the system which Nigeria educational system operates has to do with students succeeding with every means possible: It means you may not attend classes but you may come out with flying colours, because lecturers could be manipulated in order to get marks. But here in Ghana, more specifically, All Nations University, the system is strict and it encourages discipline and hard-work. An average Nigerian who comes to study in Ghana usually gets serious about their studies, knowing what it cost their parents to make such financial sacrifices. In one word, the major difference is, in Ghana hard work and discipline is encouraged but Nigerian educational system is flexible and many things could be manipulated,' Enakemu told the local newspaper.
Paul Bul Philip, the Hilla Limann Hall president of the International Students Association of the University of Ghana, Legon, noted that certificates from Ghanaian institutions are highly regarded internationally, hence the motivation of many Nigerian youngsters to want to prospect for them in Ghana: 'The paramount reason why I came to Ghana to learn is, if we are out here to study, we are actually aiming for an international certificate which will more or less give us a brighter future.'
Challenges
Recounting his story, Chuka Somto Uzochukwu, a level 200 Nigerian student of Business Administration at the Ghana Technology University College, said his biggest challenge so far since coming to study in Ghana is the fact that he has to pay school fees in foreign currency.
He said, 'The payment of fees in foreign currency (USD), adding to the instability of the economy and inflation has made cost of living in Ghana almost unaffordable.' Continuing, he said, 'In Nigeria, I can get a quality jeans for N2, 000 (GH¢26.80), and a shirt for that same price or much less. But here in Ghana, GH¢60 (N4, 478) cannot get me a trusted quality jeans.'
Abigail Samuel Okon, a level 200 Journalism and Mass Communication student of Sikkim Manipal University had her own story to tell: 'It is not easy getting accommodation in Ghana. A lot of agents use so many of us for serious business. They keep showing you places you cannot fit into and before you can get a nice place, you might end up spending the money budgeted for rent because for you to be shown even a single place, you have to pay. And this is besides the mandatory non-refundable agent fee.'
Several stories similar to this abound; James Laide, a level 300 medical student at the Kwame Nkrumah University of Science and Technology was not only lamenting about the huge tuition fee he pays as a foreign student which amounts to almost USD6000. He bemoaned: 'I do not understand why after paying almost USD6000 for tuition and getting a student resident permit from the immigration office for GH¢50 subject to renewal every year, the government make us acquire the Non-resident National Identity card at the whooping sum of USD120. It is becoming frustrating.' He further said, 'Imagine where there are about three or four us from the same family studying here; what will become of my parents' financial status? Please, the government should be considerate.'
With regard to hostel placement, most of the students said buildings marked as 'International Students Hostel' popularly referred to as ISH by most students, are usually very expensive but because it is stressfully difficult getting a house to rent, they have all resorted to paying for ISH.
They asserted that even renting a place is equally expensive, even though not as expensive as most private hostels, but the stress they go through to get the place is more than the fee they pay at these hostels.
Some cried that the fee they pay in the school hostels in a semester (usually lasting four months) will be enough to rent a decent self-contained house in Nigeria for a year.
In an interview with one of the heads of private universities in Ghana, he said the school hostel costs USD600 a semester and currently has capacity for 110 students. When asked on what basis the hostel fee was fixed, he could not give a concrete reason.
'We have no intention of making money out of the students, the cost of setting up a safe hostel facility is more expensive than what the students pay. They are not even charged extra for electricity and water. Even though not all students might be able to afford it, we have set the price based on cost efficiencies,' he said this when asked whether parents' affordability of the hostel fee was put into consideration.
Paying more than locals
With regard to foreigners paying very expensive school fees than the locals in most government universities, former President J.J. Rawlings is an ardent advocate.
He recently stated that foreign students have taken advantage of Ghanaian schools and have taken spaces that should have naturally be a preserve for the citizens.
In the light of this, former President Rawlings suggested that the disparity in the school fees Ghanaians pay and foreigners pay should be high. 'Some of these foreigners have contributed to a massive cost of living that our people cannot afford and our educational sector is one. I will simply make a suggestion that I didn't see why we don't raise the fees for foreigners the way they do for us.' J.J. said.
In the same vein, speaking to the HOD of Crop Science and Horticulture, Prof. N.J. Okonkwo at the Nnamdi Azikiwe University, Awka, Anambra State, Nigeria, he asserted that foreigners paying huge fees than the locals have been a long time practice. He noted that in Europe, England and the US, foreigners pay through their teeth to get education.
He said even though he had not come in contact with any foreign student in Nigeria recently, he is sure they exist and are made to pay some foreign fees. He is also sure there is no huge difference between what they pay and what the Nigerian locals pay.
On the average, international students pay as much as US$6,163 per academic year in tuition. However, certain specialized programmes and courses require international students to pay more. For instance, at the Medical School in the University of Ghana, students pay as much as US$10,000 in tuition. This does not appear to be a deterrent in any way for the avalanche of eager undergraduates 'besieging' Ghanaian universities. The tuition usually covers accommodation but excludes feeding.
Indeed, going by the 2011 data of foreign student enrollment available at the Planning Department of the NCTE, assuming each student is paying the average tuition and spending US$200 on feeding and petty expenses monthly, Ghana would be raking in a whooping US$20million annually from foreign students in public universities alone!
Out of this figure, Nigerian students' spending constitutes more than two thirds. But Miss Emmanuel thinks that the fees charged international students are too high: 'In Ghana here, the school fees are extremely high. However, we (both local students and international students) get the same education.'  International fees are imposed on international students, regardless of the fact that they come from Europe or from a poor country in Africa.
Fees For the rich
The high fees university authorities charge international students reinforce the perception that only rich kids (excluding those on scholarships and students from Europe, U.S and Asia, where average income levels are much higher than in Africa), can afford to pay them. Even though some students from Nigeria are being financed by scholarships, a bulk of them are self-financed and they are usually from relatively affluent homes where their parents are either politicians, business moguls, top government and corporate officials etc.  For instance, Anita is the daughter of a rich businessman in Nigeria, while Paul Bul is the son of a retired High Court judge in Nigeria. However, they would rather remain modest about their social standing in their home countries. According to both of them, education should not be valued in terms of the cost, 'It doesn't exactly count the class of the parents of the students, it can be any class, as long as the parents are willing to invest in the education of their wards,' Anita told Africawatch. On the other hand, Paul Bul feels being poor does not stop a parent from investing in the education of their wards, whatever the cost of the fees.
Studying at university and other tertiary institutions is an expensive venture worldwide. Tuition fees have a disincentive effect on the poor and middle-income students and there is a general trend towards marked increases in tuition in recent years. In Ghana, there is an ongoing tussle between students and government over planned increases in tuition. In public institutions, tuition for local students averages GH¢700 annually in public institutions (in private universities and professional institutes, fees are much higher). A closer look at the tuition in Europe gives an indication of why many Nigerians prefer to acquire their graduate certificates in Ghana. While fees ranges between US$7,000 and US$10,000 for international students in Ghana, institutions in more advanced environments like the USA, UK and Australia (favourite educational destination of Africans) charge as much as US$25,000 for international tuition fees.
Interventions
However, foreign students want the Ghanaian government to intervene, especially in accommodation.
'Inasmuch as the Ghanaian government has not forced any Nigerian, or foreigner for that matter to come study in Ghana, they should try to help in the provision of affordable accommodation for foreign students,' one student from the Sikkim Manipal University stated.
'Since foreign students pay huge fees for tuition, accommodation and other bills, the government should cut down on mandatory rules that would incur extra expenses on them. Acquiring the student resident permit is enough as I see no extra relevance of the non-resident national identity card. Not like it would replace the international passport in case a student wants to fly back to Nigeria,' he stated.
It is now obvious that just getting admitted into a university in Ghana and coming to Ghana is not enough. An adequate environment outside the learning environment should be provided for foreign students so they can learn without pressure.
 By: Silvia. A. Uzor