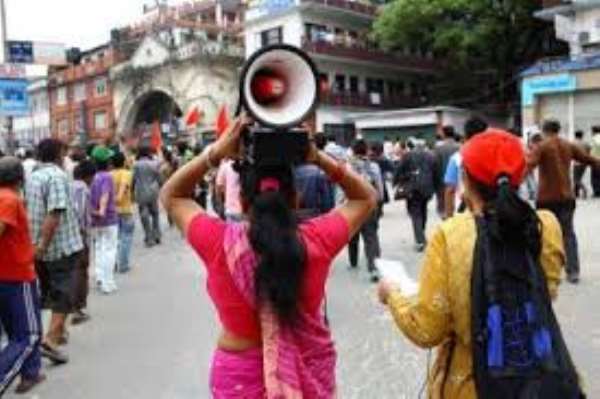 Cranchon.com: Making All Voices Count
iSpace||Accra: Story by Prince Baah-Duodu (@baahduoduprince)
Hivos is leading a consortium, consisting of the Institute of Development Studies (IDS) and Ushahidi, to manage the Making All Voices Count (MAVC) fund.
MAVC brings together four donors: U.S. Agency for International Development (USAID), UK Department for International Development (DFID), Omidyar Network (ON), Swedish International Development Cooperation Agency (SIDA) and Open Society.
In an interview with Cranchon.com, after the launch at Ghana's Premium Tech Hub, iSpace, Erik Nijland, the Coordinator of Global Action for Making All Voices Count, disclosed that MAVC is implemented in 12 countries worldwide, of which Ghana is part.
According to him, the project is expected to bridge the gap between governments and citizens to enhance the responsiveness of governments by means of technology and accountability to those citizens. This they believe would build a trusting relationship between
Citizens and Government.
The launch at iSpace, gave participants the opportunity to seek first hand information about the project and interact with the officials. CSOs, NGOs, Private companies, Government Organisations, Local start-ups and individuals with innovative ideas would be supported by the MAVC fund to scale up successful ventures, says Erik.
A Program Officer for HUBs at Ushahidi (A Non-profit Technological Company in Kenya), Declan Ottaro, told Cranchon.com that Ushahidi would be mentoring successful applicants and work with HUBs in Ghana to enable them (HUBs) provide the necessary assistance to successful applicants.
Both Declan Ottaro and Erik Nijland encouraged Ghanaians with game changing and innovative ideas to apply and hopefully receive training and funding to innovate, scale-up, research or catalyse global action.
To apply, please go to: http://www.cranchon.com/2013/09/27/innovative-ict-solutions-for-social-change-making-all-voices-count-launched-in-ghana/
Prince Baah-Duodu
Team Lead : Cranchon.com
Follow on Twitter: @baahduoduprince
Editor's Note:
Making All Voices Count is a project which was recently endorsed by Mr. Barack Obama. This story could be re-published on other platforms but credit must be given to Prince Baah-Duodu, Team Lead, Cranchon.com