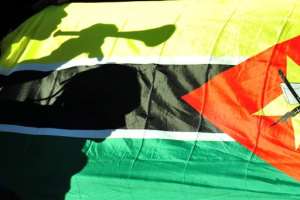 Mozambique scored five goals as 2016 African Nations Championship qualifying kicked off. By Mustafa Ozer (AFP/File)
Johannesburg (AFP) - Mozambique scored five goals and Senegal, South Africa and Uganda three each this weekend as 2016 African Nations Championship (CHAN) qualifying kicked off.
Luis Jose Miquissone was the destroyer-in-chief for the Mozambican Mambas (Snakes) against the Seychelles in Indian Ocean port Beira with an 18-minute hat-trick.
However, the teenage goal-poacher may soon be ineligible for the competition as he is set to join newly promoted South African Premiership club Jomo Cosmos.
Only home-based stars can compete in the CHAN, which was created to give local talent international exposure because many African national teams are dominated by foreign-based stars.
Reinildo Isnard Mandava and Diogo Antonio Alberto were also on target for the hosts in the first leg of a preliminary tie as Helder 'Mano Mano' Muianga made a debut every coach dreams of.
Former national team defender Muianga succeeded sacked Joao Chissano last Sunday after Mozambique suffered a shock home defeat by Rwanda in a 2017 Africa Cup of Nations (CAN) qualifier.
Gervais Waye-Hive scored for the Seychelles when his team were trailing by four goals midway through the second half.
It was a disappointing scoreline for the Indian Ocean islanders, whose coach Ulric Mathiet has been concentrating on defence.
The experienced handler was encouraged by a three-match Cosafa Cup southern Africa championship campaign last month with only two goals conceded.
But after letting in four goals away to Algeria in the Cup of Nations a week ago, the hoped-for improvement against Mozambique did not materialise.
Uganda completed a double over Tanzania in the last CHAN qualifiers and they look set to repeat that feat after an impressive 3-0 away win in Zanzibar.
Erisa Ssekisambu scored in each half before Farouk Miya converted a late penalty.
South Africa shrugged off shambolic preparations to defeat Mauritius 3-0 in chilly Soweto with all the goals coming before half-time.
Thamsanqa Gabuza broke the deadlock and prolific second-division scorer Siphelele Ntshangase bagged a brace against rivals reduced to 10 men when David Lengclume was red-carded on 81 minutes.
Winning coach Ephraim 'Shakes' Mashaba had only 11 players -- including two goalkeepers -- on the eve of the game after several clubs withdrew players despite it being the domestic off-season.
Club-versus-country clashes are common in South Africa and because CHAN fixtures do not fall within the FIFA calendar, clubs can dictate to national associations.
Mamadou Niang scored twice as Senegal overcame neighbours Gambia 3-1 in Dakar and Mali came from behind to force a 1-1 draw in Guinea-Bissau.
Title-holders Libya began their defence by edging Tunisia 1-0 with Mouayed Gritli snatching the 75th-minute match-winner in Casablanca.
Victory propelled the Mediterranean Knights to the top of a mini-league ahead of Morocco, who were held 1-1 by Tunisia in the opening game.
The three North zone contenders are using a double-round group format while the other five regions have adopted a two-leg knockout system.
A further seven fixtures are scheduled for later Sunday while the Guinea-Liberia clash has been delayed 24 hours to Monday.