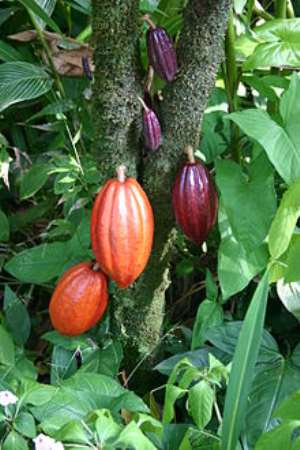 Indication shows that over 40% of Global annual cocoa production is lost to insect pests and diseases across the country including all the cocoa production in West Africa.
Currently, Cocoa pets and diseases follow a regional pattern of distribution and are indigenous to specific geographic area. However, there is an increasing threat of global spread of cocoa pests and diseases outside their current geographic distribution.
The industry found out that, Mirids, is the most aggressive Black pod(Phytophora megakarya) and cocoa Swollen shoot Virus (CSSVD) are the main indigenous pets and disease affecting Cocoa Production in Africa.
The main Cocoa pest and diseases affecting production in Latin America are Witches' Broom diseases (Moniliophtyora (Crinipellis) pernicious) and frosty pod (Monoliophthora roreri).Cocoa Pod Borer (CPB) has caused significant losses to cocoa industry in Malaysia, Indonesia and the Philippines.
Chief Executive Officer of Ghana Cocoa Board, Tony Fofie, stated that the threat posed by the introduction of exogenous pests and diseases to African cocoa production is evident, inasmuch that the consequences of an outbreak would be devastating.
He said currently, sanitary and phytosanitary authorities in major Cocoa Producing countries in the region are battling to manage and contain the spread of indigenous pest and diseases.
Tony Fofie said this at a Regional workshop organized by ICCO international Cocoa in Partnership with Common Fund for Commodities (CFC) and Ghana Cocoa Board, on Integrated Management of Cocoa Pests and Pathogens in Africa; controlling indigenous pests and diseases and preventing the introduction of Exogenous ones.
As part of the workshop an integrated pest Management (IPM) on Cocoa pests and pathogenous project was launch to encourage the use of efficient integrated pest Management (IPM) and the application of "best know practices" for the control of weeds, pests and diseases of Cocoa.
Executive Director ICCO, Jean-Marc Anga, said the project will help famers and other stakeholders to be trained on best know practices that meet international standards, thereby improving their export potential to consumer markets.
He pointed out that their key objective is to create awareness on the incidence, severity and damage caused by indigenous Cocoa pests and diseases and the threat of introducing exogenous pests and pathogens from other Cocoa producing continent into Africa.
Board Member of Ghana Cocoa Board, Mrs. Afriyie Haffer, lamented that Cocoa Board is the backbone of the country since their goal is to prevail best and contribute tom the nation's development.
She said the issue of pests and diseases is most challenging to the nation and because the quality of Ghana's Cocoa continuous to be the number one in the country.
She said Government of Ghana will continuous to implement strategy that would support Cocoa Industry.
Mrs. Afriyie said this project will also help the activities of famers become effective and efficient, meanwhile most youth would be motivated to partake in the Cocoa Agencies.