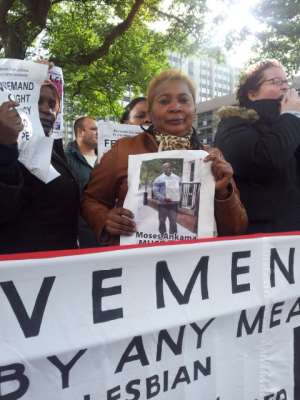 A border agency contracted by the UK Home Office to carry out deportations has been accused of killing a lesbian whose asylum claim was refused.
Jackie Nanyonjo, a lesbian, whose asylum claim was refused by the UK Home Office and deported by Border Agency to Uganda, died on Friday, March 8, in Uganda.
Jackie who was scheduled for the Qatar Airways Flight QR76, on January 10, the airlines declined the offer, after the campaigners staged the protests at its head offices. This prompted the UKBA to change, and book her on Kenya Airways
According to Movement for Justice, an organisation, which campaigns to stop the deportation of the gays to Uganda, says, despite its effort to stop Jackie's deportation, including the securing of permission for judicial review, UK Border Agency insisted and roughed her; in the process four guards who also belonged to Reliance Group assaulted her.
Jackie's cause of death, according to the Movement for Justice was a result of the injuries allegedly inflicted on her by the Home Office's licenced UK Border Agency, which sub-licenced Reliance Group that carried out her deportation from the UK.
In its statement to this newspaper, the Movement for Justice said that: "She struggled for as long as she could until, beaten up, half strangled and bent double. She was overwhelmed by the pain in her chest and neck and was unable to breathe."
"She was much-loved person by a wide circle of friends who kept in touch with her after she was deported and who miss her deeply," said a Member of Movement for Justice.
"All of us who knew her, or who didn't know her personally but are determined to end the regime of racism and anti-immigrant bigotry that is responsible for her death and will fight to win justice for Jackie," a member of Movement for Justice.
"We are together and determined to prevent this happening again, and to expose the truth of racism and abuse in the UK Border Agency and immigration system," reads part of the message sent to this newspaper from Movement for Justice.
Since the tabling of the Anti-Homosexuality Bill in Uganda Parliament in 2009, by a member of the ruling party, the National Resistance Movement (NRM), MP David Bahati, the sexual minorities find hostile reception.
This legislation, looks compounded by other things including; a call for life imprisonment of anyone found guilty of "the offence of homosexuality," punish "aggravated homosexuality" and offenses like having gay sex while HIV-positive by a death penalty upon conviction.
The legislation also extends the jurisdiction beyond Uganda's borders and includes the "nullification of inconsistent international treaties, protocols declarations and conventions."
Among the controversial bill features several clauses that it would remain valid and relevant if: a) "a person who, while being a citizen of or permanently residing in Uganda, commits an act outside Uganda; or b) the offense was committed partly outside and or partly in Uganda."
The legislation calls for a death penalty for homosexuals as well as a seven years jail term to anyone found of guilty of not reporting to the authority about the activities of gays in their respective communities.
It also prohibits any "promotion of homosexuality" and incarcerates gay's rights defenders.
According to the bill, mainly- article of Promotion of homosexuality, under section 13: A person who- acts as an accomplice or attempts to promote or in any way abets homosexuality and related practices; commits an offence and is liable on conviction to a line of live thousand currency point or imprisonment of a minimum of five years and a maximum of seven years or both fine and imprisonment.
The funniest part of this legislationis a provision for Ugandans abroad that engage in the same sex relations outside the country, asserting that they may be extradited for punishment back to Uganda.
It also includes penalties for individuals; companies, media organisations or non-governmental organisations that know of gay people or support the LGBT rights.
Anyone who act as an accomplice or attempt to promote or in abet homosexuality related practices commits an offence and reliable to a big fine or imprisonment between 5-7 years. What is not understood; is what might happen to a lawyer representing a gay suspect, a doctor treating a gay patient or a journalist filing a report about the gay persons!
President Museveni, previously made strong anti-gay statement in recent times.
Unlike political opponents in Uganda, who are routinely clamped down during the demonstrations, the anti-homosexuals in Uganda have an olive branch given by the state. Clergymen across religious backgrounds also back those protesting against homosexuals. This calls for fear of those labelled as gays or lesbians.
In face of the brutality by the UK Border Agency, several detainees await deportation.
According a lawyer who is familiar with the case revealed that the Home Office was trying to reach out a settlement. "They don't want this to get out," said a source on condition of anonymity to speak freely.
A member of Movement For Justice, an organisation campaigning to stop the deportations of LGBTs specifically to Uganda said that she believes that:
"Many of these people are genuine gay asylum seekers. But UK Border people, they don't know and due to minimal resources, they are not given adequate representation."
"Today, we see many kept into the detention centre, and get deported without proper procedure," she adding that: "Jackie was a victim of the immigrant bashing policies of Theresa May, the racist Home Secretary."
Among the priorities of the Movement for Justice, campaigners are to stop Flight KQ 101, which is scheduled to take Mary KiwanukaNakku on Friday, March 15, at 19:00 hours.
According to the campaigners, the UK asylum system is tussling because of the stereotyped understanding of what lesbian and gay people looked like.
"You can imagine in the face of the brutality the British authorities meted to Jackie, now they want to add on Mary," said a lawyer who examined her documents. "It is illogical for these people to overlook her claim. Her age and what she presents speaks volume," said the lawyer in reference to Mary, 53, whose partner Jane Namusoke passed on.
"These people don't learn lesson, by deporting such person, they risk encoring legal compensations to the government," said the lawyer, adding that: "We have seen such cases."
Christine Nakato who has is also on the agenda
Previously, John BoscoNyombi, a gay, was deported to Uganda against his will but later returned to the UK after a legal battle that cost the UK £100,000 in compensation. Then a British High Court Judge, George Newman overturned the earlier ruling that, the Home Office was guilty of 'a grave and serious breach' of the law. The Judge Newman ruled that Nyombi's deportation was "manifestly unlawful".
Also in 2010, Jimmy Mubenga then 46, died at Heathrow during his deportation to Angola on a British Airways flight from Heathrow to Luanda on Tuesday 12 October 2010 had a tragic inevitability given the victim.
The bill was only deferred for all these years, after the condemnations by former British Prime Minister Gordon Brown, the Canadian Prime Minister Stephen Harper, the U.S. Secretary of States Hillary Rodham Clinton and US President Barack Obama.
When asked David Forbes the attorney who handled this case, neither confirmed nor denied the allegations against his client.
Mr Forbes, who represents other lesbians in Yarlswood Removal Centre, waiting for deportation specifically to Uganda, had promised to answer the forwarded questions, but by press time he hadn't returned the e-mail.
The Movement for Justice is putting the UKBA on trial for Jackie's murder. Jackie is by not the first person to die at the hands or through the actions of the UKBA but we want to make sure that she is the last.
Justice for Jackie means above all exposing the UKBA before the Court of Public Opinion, challenging its power so that what happened to Jackie never happens to anyone else, and shutting down Yarl's Wood detention centre.
It means building the movement that Jackie joined, in Yarl's Wood and other detention centers and outside, in our communities and on our campuses, and ends the injustice of detention and deportation.
Asked for a comment from the Home Office, a UK Border Agency spokesperson said: "We do not routinely comment on individual cases."
"Where we and the courts find that an individual has no right to be in the UK we expect them to leave. Where they refuse we will enforce their removal," she added.
A march has been organised today Thursday, March 14, at the Home Office HQ, Marshamst, Westminster SW1P on corner of Horseferry rd. Westminster or Victoria tube.
.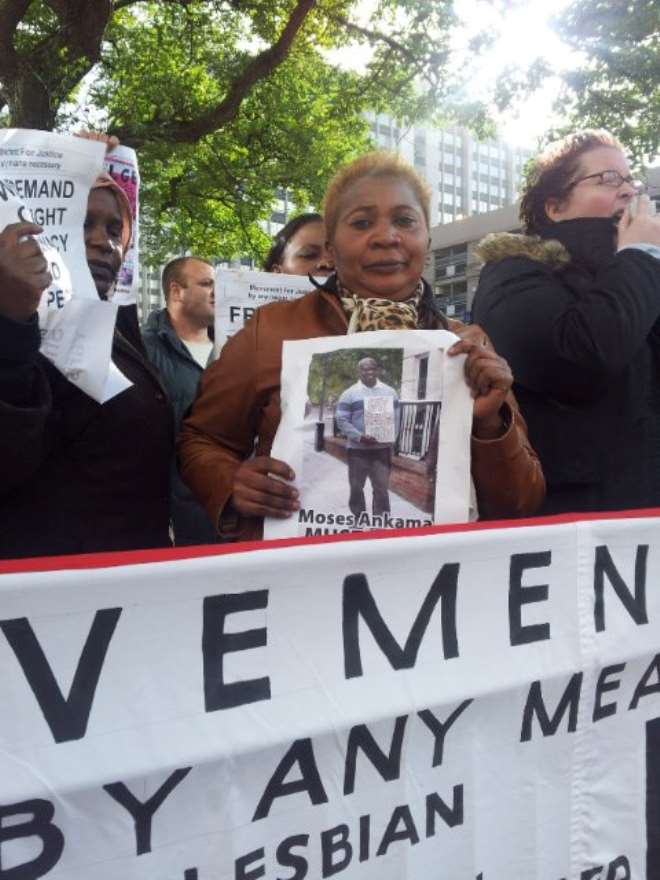 JACKIE

KENYA AIRWAY