1001 African Books to Read before You Die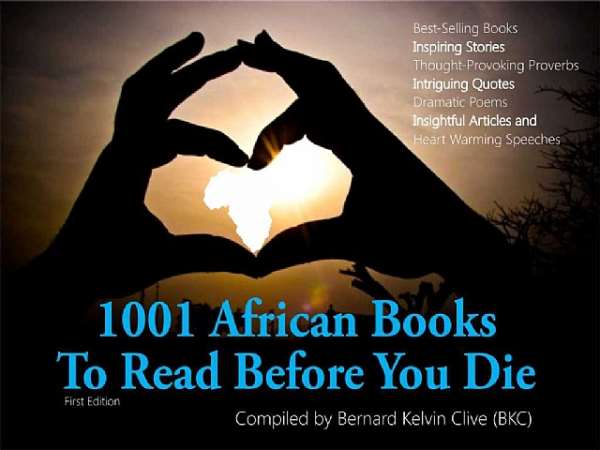 "1001 African Books to Read Before You Die" (FREE)
Is a part of "The Writer's Dream Series" published by the Motivational Speakers Network(MSNgh), and compiled by Bernard Kelvin Clive. This book contains fiction and nonfiction book samples and summaries. Best-Selling Books; Inspiring Stories; Thought-Provoking Proverbs; Intriguing Quotes; Dramatic Poems; Insightful Articles; and Heart Warming Speeches from African Writers. These are great minds reaching out to the world with their depth thoughts and feelings from the proud African continent.
This book is like having a conversation with the great African writers such as Chinua Achebe, Adwoa Badoe, Ayi Kwei Armah,Kofi Akpabli Ama Ata Aidoo, Nana Awere Damoah, Atukwei Okai,Nana Asaase, Jephter Akaehie, Adjei Agyei-Baah, Kwaku Sonny,Albert Ocran, Emmanuel Dei-Tumi, and many more.
This list includes self-published and traditionally (publisher) published works; a mega compilation of fiction and non-fiction books, stories, articles, African proverbs, quotes and poems from various authors to motivate and inspire you. Perhaps this is what you've been waiting for. To have a conversation with exceptional writers as they share their moods and motivation from African.
Click the link below to Download a copy for FREE
CONTRIBUTING AUTHORS
1. Chinua Achebe
2. Nelson Mandela
3. Kofi Akpabli
4. Adwoa Badoe
5. Albert & Comfort Ocran
6. Emmanuel Dei-Tumi
7. Lionnel Yamentou
8. Kwaku Dankwa
9. Nana Awere Damoah
10. Nana Asaase (Philip Boakye Oyinka)
11. Dumi Senda
12. Scofray Nana Yaw Yeboah
13. Gideon Commey
14. MD Nana Sei(Daniel Nana Sei Mensah)
15. Paa Kwesi Inkumsah
16. Eugene Ayim
17. Jeremiah Buabeng
18. Emmanuel Takyi Awuah
19. George Kwaku Anyaba
20. Abeku Adams
21. John Benjamin Eshun
22. Romeo Adzah Dowokpor
23. Isaac Ieboah
24. Emmanuel Woyome
25. Bob Laryea (Apostle)
26. Richard Paa Kofi Botchwey
27. Prince Bobby Oritseseyi Udosen
28. Kwaku Sonny
29. Kofi Yankey
30. Jephter Akaehie
31. Adjei-Agyei Baah
32. Frank Owusu Amofa
33. Steward Jane
34. Benjamin Gregory Aggrey
35. Edison Gbenga Ade
36. Nihad' Djouwe Gervais
37. Ayi Kwei Armah
38. Ama Ata Aidoo
39. Atukwei Okai
40. Wole Soyinka
Read the book for more and watch out for the 2nd edition.
The compilation for the 2nd edition is ongoing and any African Author can submit content for inclusion. Do visit www.EwatchMagazine.com/1001Africanbooks/