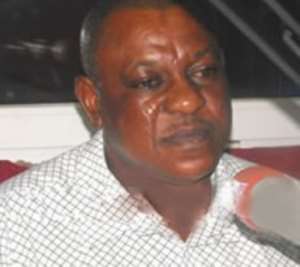 Alhaji Bature
The Managing Editor of the Al-Hajj newspaper, Alhaji Iddrisu Bature is urging President Mahama to demand an unqualified apology from the General Overseer of the International Central Gospel Church (ICGC) for "dragging his name in the mud".
He said it is most unfair for Pastor Mensa Otabil to call on the President to restrain individuals circulating an audio tape in which he [Otabil] is heard criticizing the free education, a policy being preached by the opposition New Patriotic Party (NPP).
The respected preacher man in response to the circulated tape accused some members of the ruling National Democratic Congress (NDC) of putting a slant on his message for political gain.
Describing the act as unethical, Machiavellian and criminal, Pastor Otabil called on President Mahama to call his people to order.
But the campaign team of the president in reaction to Otabil's call maintained that, he [Mahama] cannot not be held liable for the actions of individuals who want to make information readily available to the public.
Speaking on Ekosii Sen programme Tuesday, Alhaji Bature described as "ungodly" the statements by the preacher in his setting the records straight press conference.
He wondered why Otabil will ask President Mahama to intervene when in the same message he (Otabil) claimed he had handed the supposed surrogates of the NDC to God.
According to him, Pastor Otabil touched on the sensibilities of many Ghanaians especially members of the NDC who revered him as a respected man of God.
Bature admonished the President to boycott the upcoming Institute of Economic Affairs (IEA) organized presidential debate if the ICGC leader does not apologise to him and the NDC.
The Al Hajj Editor stated that Pastor Otabil has compromised his position as Chairman of the debate committee and thus it would be prudent for him to resign.
"As Chairman of the debate he is supposed to be neutral, independent and fair [but] he has compromised his position and has dragged the IEA into serious contempt" he bemoaned.
Alhaji Bature admonished President Mahama not to repeat the Presbyterian Church example by apologizing on behalf of the party in the Otabil brouhaha.
He wondered whether the preacher man's faith in God has withered and is now calling on a "mere mortal" like John Mahama for help.
"Why will Pastor Otabil in one breath say he has left everything to God and in another breath he is appealing to a lesser mortal like John Mahama. Don't you [Otabil ] have confidence in your God, he quizzed.
Alhaji Bature threatened to boycott the NDC campaign if President Mahama goes to the IEA without an apology from Pastor Otabil.
"If Mahama goes to that IEA debate without Pastor Mensa Otabil apologizing to him then I will have a rethink about him and believe all politicians are the same".