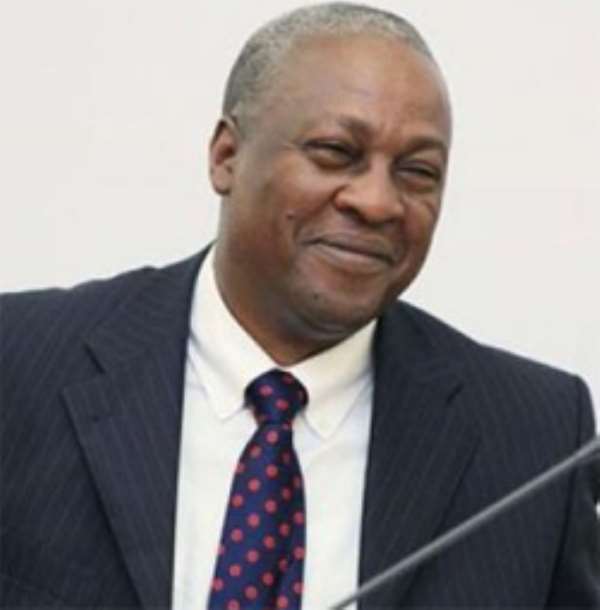 Even as the nation mourns the sudden death of the late President Prof. Mills and prepares for his state burial, his party the NDC is confronted with a bitter power struggle on the choice of a Vice President.
At the centre of the struggle are Capt.(rtd) Kojo Tsikata, the Ahwoi brothers, party leaders like the Chairman and General Secretary and newly sworn-in President, John Mahama.
Capt. Kojo Tsikata is reputed to have had a strong hold on Prof. Mills and had a major say in the appointment of the Speaker, Rt. Hon. Bamford Addo, Finance Minister, Dr. Kwabena Duffuor, National Security Cordinator, Lt. Col. Gbevlo Lartey and other key appointees. He wants either Dr. Kwesi Botchwey or Mr. P. V.Obeng to be the next Vice President of Ghana and is said to be at his lobbying and convincing best as the chief security advisor.
As this paper reported just before Prof. Mills' trip to the United States for "routine medical check-up", the Ahwois were negotiating for Kwesi Ahwoi, the current Agric Minister to be made the Vice President in anticipation of the failure of Prof. Mills to run for election in 2012.
We reported then that John Mahama was not interested for several reasons, including his wish to run his own show. He is still not interested in Kwesi Ahwoi, even though he knows the might of the Ahwois in the NDC.
The NDC has managed to position itself in the power struggle by reminding President Mahama that he has to go to Congress to be made the candidate for the 2012 elections and must choose a Vice President who can be running mate in the December elections.
This is where the party is struggling with the Volta, Ga and Akan permutations with all sorts of names popping up and making the bitter struggle sometimes funny. Vice President Victor Smith, Kwabena Adjei, David Lamptey? We are in very interesting times.
It is known that President Mahama wants a Vice President he can trust and control and prefers Hannah Tetteh, the Trade Minister and his bosom friend from the Central region. He is said to be also interested in Sylvester Mensah, head of National Health Insurance, who satisfies Volta and Ga agenda even though there is strong objection that Sylvester is not even a Minister.
There is also the compromise choice of Mrs. Christina Amoakoh- Nuamah, senior Presidential Aide and former Minister.
Samia Nkrumah has confirmed that her name has been mentioned in some circles but nobody has consulted her and she is not interested. CPP's Dr. Abu Sakara Forster is said to be very keen on Samia as running mate even though his boss wants to stay in Parliament.
President Mahama kept Parliament waiting on Thursday July 26 for the nomination of his Vice but the stalemate had not been resolved. He has up to Tuesday July 31 to submit the nominee for Vice President to Parliament as the Speaker leaves Ghana for official business for a week.
In the absence of a Vice President and the Speaker, President Mahama cannot travel and Parliament is beginning to raise its voice on the huge vacuum of a nation without a Vice President.
SOURCE: FRONT PAGE Newspaper