Betty buys 3 UK mansions?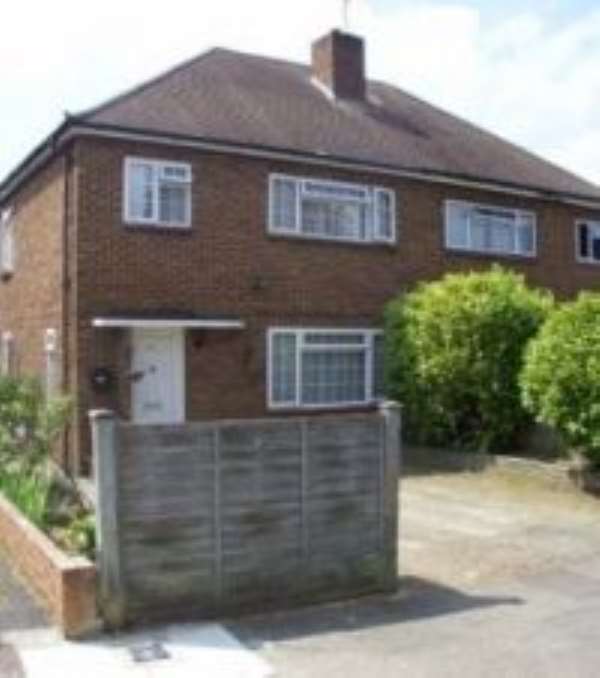 One of the alleged houses purchased by Betty Mould
Embattled former Attorney-General and Minister of Justice, Betty Mould Iddrisu, is reported to have purchased three houses, all said to be in different locations across the United Kingdom, and also deposited a whopping £1.042 million in her alleged Barclays Bank UK private account between November 2011 to May 2012.

The allegation was made by the Editor of the Leicester Recorder, Jacinta Crispin-Jones, who claimed that the former Attorney-General kept the same account with a balance of £6,115.73 at the end of January 2008.
According to the Leicester recorder, electronic transcripts from Mrs Betty Iddrisu's account showed the transfer of an amount of 250,000 pounds for the purchase of a property in Loughton in Essex. This property, according to the Leicester Recorder, is located at 252 High Road, Loughton, Essex, IG10 1RB.

A search by the New Statesman, using Google's Street View application, shows a six-bedroom property located in the county of Essex, approximately 16.0 kilometres (10.0 miles) north east of London, an area considered a wealthy town on the outskirts of Greater London with excellent transport links to Central London.

In explaining how Mrs Betty Iddrisu purportedly purchased this and other properties, the Leicester Recorder explains that officials of Barclays Bank Woodbridge, Leicester, were in November 2011, alerted when Mrs Iddrisu added London based property developer and jewellery tycoon Dr Srinath Kumar as a joint beneficiary of her account. Mrs Iddrisu's account number is quoted by the Leicester Recorder as 20756821-SORT CODE-20-98-07.
The report further reveals that shortly after this development, an amount totalling £1,042,000 between November 6, 2011 and May 8, 2012 was lodged into Mrs Iddrisu's account.

The breakdown of the deposits, according to the Leicester Recorder, are as follows:
6th November-2011 £45,000
25th November 2011 £ 150,000
15th December-2011 -£120,000
20th January 2012-£179,000
18th February-£265,000
23rd March -£86,000
29th April -71,000
8th May- £126,000
Due to her unavailability in the country, the report has it that officials from Barclays Bank Wooldrige questioned the other joint account holder as to the source of the deposits.

Dr Kumar is reportedly to have stated that the £1,04 million were profits from a joint 70 acre citrus, mango and palm plantations in the Western Region of Ghana, his property lettings company in Cardiff, Wales as well as his property developments in Cyprus.
The Bank officials were, however, not convinced and alerted its International Private Banking desk in London who called in the police. Some officials at the bank believe the British Serious Organised Crime Agency (SOCA) should be called in to investigate the deal.
Dr Kumar has strongly defended the deposits claiming they are from legitimate sources. A UK member of parliament has taken up the matter and would want to find out from the British government if it is necessary to continue supporting the budgets of African countries if huge amounts of monies are being used to buy properties by African ministers in the UK.
Efforts to reach Mrs Betty Iddrisu for her comments proved futile as several attempts to contact her via telephone were unsuccessful.
AFAG calls for probe
Alliance for Accountable Governance has called for a probe into allegations that embattled Betty Mould Iddrisu, former Attorney-General and Minister Justice owns a fat bank account at the Barclays Bank in the United Kingdom.
The AFAG leadership is therefore calling on the government to investigate the true owner of the said account number which is 20756821, Loughton Esses branch in UK.
Speaking at a press conference, Abu Ramadan, Director of Operations of AFAG, claimed that over one million pounds sterling was allegedly deposited in Betty's account whilst she had also acquired three properties within the period she was in government.
AFAG has also given a five-working day ultimatum to government to arrest Betty-Mould Iddrisu, Kwabena Duffour, Finance Minister, and Ebow Barton Odro, Deputy Minister of Justice and Attorney-General for prosecution over their involvement in the payment of GH51million judgment debt to Alfred Agbesi Woyome, NDC financier.
Abu Ramadan warned that if the government failed to take action against these persons, AFAG would embark on demonstration to ensure that the principle of equity, accountability, equality and justice for Ghanaians were attained.
Touching on the fresh charges against Alfred Woyome, AFAG spokesperson maintained that the new charges remain a façade and that the group was not surprised because the NDC government had not shown any seriousness to prosecute the case.
Taking a swipe at the International Monetary Fund, AFAG was of the view that the global organization means no good for Ghanaians as it is only interested in giving out loans but not how they are applied to the benefit of the citizenry.
The political pressure group wondered why the IMF was yet to speak on the judgment debt saga but rather chose to advise the government to remove fuel subsidies and consequently increase fuel prices.