European Union extols Ghana's democratic process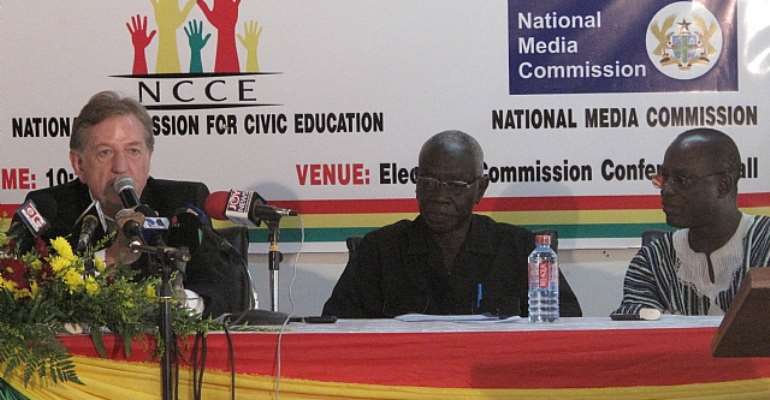 Accra, June 12, GNA – Mr Claude Maerten, Head of European Union (EU) Delegation to Ghana, on Tuesday expressed confidence in Ghana's democratic dispensation describing her democratic institutions and processes as solid.
He said in spite of its challenges, the country had shown leadership in democratic rule and demonstrated to the rest of the world it could organise a peaceful, transparent, free and fair election for 2012.
Speaking at the media launch of EU's £7-million grant to three independent governance institutions in Accra, Mr Maerten pledged the Union's continuous support to strengthen the transparency, accountability and responsiveness of the country's democracy, respect for rule of law and human rights.
Mr Maerten said he was pleased with the progress that Ghana had made so far.
The beneficiary institutions include: National Media Commission (NMC), National Commission for Civic Education (NCCE) and the Electoral Commission (EC) of Ghana.
The first tranche of EU's grant which spans 2010 to 2013 has been disbursed.
Dr Kwadwo Afari-Gyan, Chairman of EC expressed gratitude to the EU for the support and added that the funds would be used to implement some activities, including human resource and capacity building for staff, public outreach programmes, civil society, general public education and the security to be deployed at the polling stations during the December election.
He expressed confidence that the focus on medium-term capacity development of the EC and the promotion of civic and voter education under the support would enhance the EC's ability to organise future elections and increase public awareness of the electoral and democratic process and hopefully lead to increased citizen participation.
Madam Charlotte Osei, Chairperson of NCCE, described the grant as 'a major boost to the resource and internal capacity building for their operations.'
Mr Kabral Blay-Amihere, Chairman of NMC, said support from the EU would enable the Commission effectively monitor the media landscape.
He said the NMC would soon embark on legislative reforms, hinting that it would critically look at ethics of the profession.
Mr Blay-Amihere called on stakeholders to undertake training for media practitioners.
GNA