Asantehene Decries Ocultism At KNUST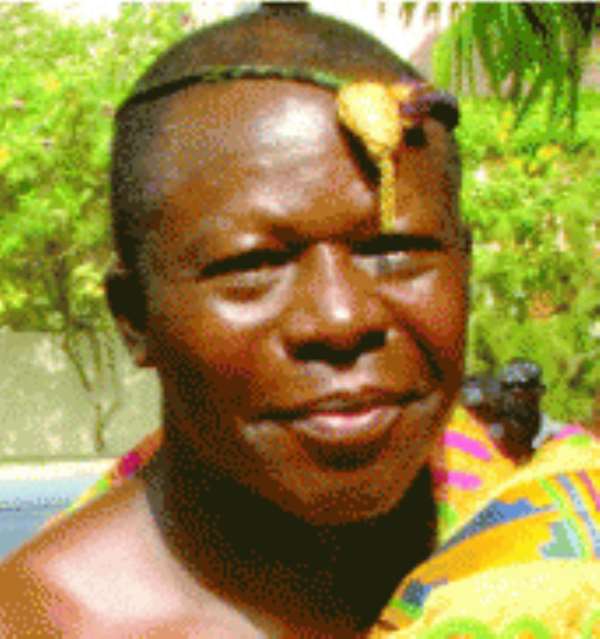 Otumfuo Osei Tutu II
The Asantehene, Otumfuo Osei Tutu II, has expressed worry about the way occultism practice was creeping into students' life at the Kwame Nkruman University of Science and Technology (KNUST).
"I'm aware of what is going on here," he said, and consequently challenged the university management to devise strategies of fighting the canker.
The Asantehene, who is also the Chancelor of the KNUST stated this today at the inauguration of the first phase of a hostel project, named after him.
Completed at the cost of GHC3 million, the 700-bed facility was expected to help solve accommodation problems facing students.
Started in 1999, the project was the brainchild of the then Vice Chancellor, Prof. J.S.K. Ayim and the then Students Representative Council (SRC) President, Mr Andy Osei-Okrah, with support from Mr Ben
Odame, the architect/consultant, and Nana Dwomoh Sarpong, the President of Friends of Rivers and Water Bodies, an NGO.
Students were levied while other contributions came from some individuals and organisations to finance the project.
The Asantehene advised the students to avoid acts that could ruin their future, and rather concentrate on their studies to enable them become meaningful citizens in future.
He further told the students to do away with unnecessary politicking on campus.
Emphasising the accommodation challenges of the university in spite of the efforts by government, the university management and other organisations to address them, Otumfuo gave the assurance that efforts would be made to minimise the situation.
He commended all persons who played various roles in the completion of the project.
Responding to the concerns of the Asantehene, the Vice Chancellor of KNUST, Prof. W.O. Ellis, said his administration would not spare any student who fell foul of the university's rules and reglations.
"If you have to be sacked or rusticated for any offence, it will be carried out without hesitation," he warned.
Prof Ellis noted that with the current student population of 32,198 and a staff strength of 3,000 the facilities at the KNUST were overstretched.
He said the successful story of the project was a testimony of the inherent benefits of teamwork.
On that score, he congratulated the initiators of the project and every other individuals and groups that played a role in it.
In an interview, Nana Dwomoh Sarpong, who served as a treasurer for the board and who also contributed GHc4,000 and timber products towards the projects, said he was happy to see the birth of the first phase.
He was confident that the next phase would take off in the nearest future.