KAIPTC Trains ECOWAS Election Observers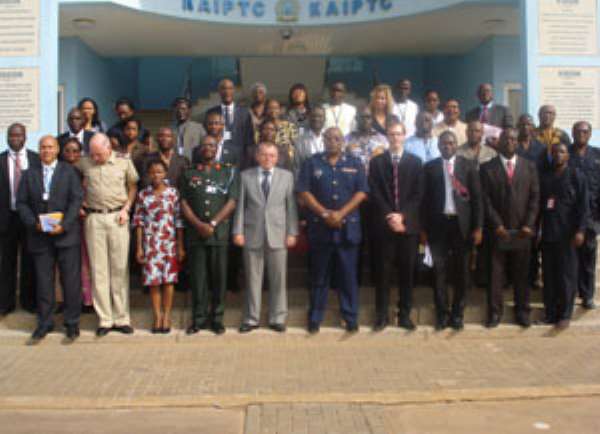 The participants in a group photograph
The Kofi Annan International Peace Keeping Training Center (KAIPTC), in collaboration with the Center for International Peace Operations, (ZIF) Germany, has begun a 10-day election observation training course for participants from the Economic Community of West African States (ECOWAS).
The course, which is also supported by the German Development Corporation (GIZ), is aimed at equipping the 29 participants with the requisite professional skills in election observation in the West African sub-region.
It is also geared towards addressing the capacity requirement of civilian personnel deployed in peace support missions and those who will participate in future missions in Africa.
Officially launching the training course at the center, Air Vice Marshal C. E. K, Dovlo, Commandant of KAIPTC, noted that election observation and observer missions are critical in consolidating the democratic culture in the sub-region.
He observed that in spite of the crucial role election observers play to ensure that national electoral processes meet international principles and standards of electoral credibility, there was a challenge.
'The challenge however has been to train and build the capacity of identifiable stakeholders and civil society actors who are equipped and available to be deployed as election observers,' AVM Dovlo stated.
 'We have to date trained a total of about 196 election observers, a significant number which have been deployed by ECOWAS on observation missions, he said.
According to him, the center has played a leading role in facilitating the annual electoral observation course to address the challenge.
The commandant further noted that the course is crucial to the center because Ghana and other African countries will be going to the polls to elect various national leaders.
'Whether these elections result in further consolidating our democratic gains as well as peace, security and stability within the region or lead to a repeat to the Cote d'Ivoire debacle of 2010 will depend significantly on how well and credible they are conducted,' he said.
AVM Dovlo therefore urged the participants to be committed, noting, 'The year 2012 is a critical year on the international electoral calendar for the sub-region and we need your inputs to make the year an electoral success for West Africa,' he stated.
The German Ambassador to Ghana, Eberhard Schanze, also admonished the participants to take advantage of the training course at the KAIPTC, stressing that  ECOWAS observers trained at the center had improved the credibility of observers across the sub-region.
'Do proper job to add credibility and ensure stakeholders confidence is embraced,' H.E Schanze said.
Margaret Alexander Rehoboth, the course director, added that participants will be given the professional tools to enhance election observation.
She said the prospective observers will be taken through principles and standard of election observation, techniques and rights of election observation, mind awareness and the act of election observation.
'We will have officials from the Ghana Armed Forces and the Electoral Commission (EC) also come and train them,' she said.
By Jamila Akweley Okertchiri