John Kufuor, Please come again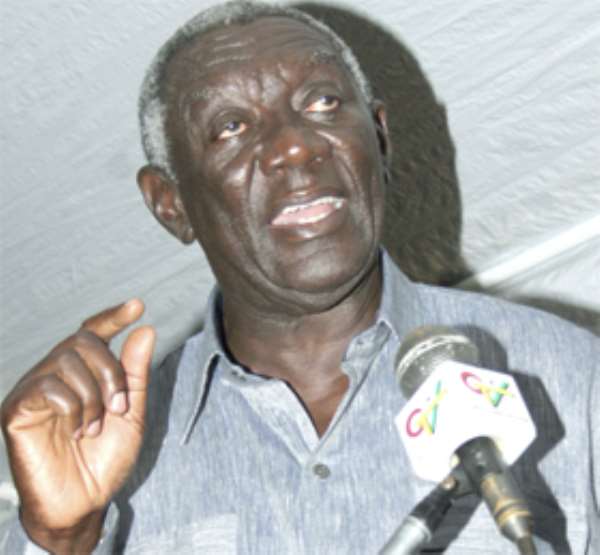 I was quite puzzled to listen to former president Kufuor advise his colleagues not to honour the invitations extended to them by Economic and Organized Crime Office (EOCO) to help with its investigations into the controversial judgement debt paid to businessman Alfred Woyome.
In an interview with an Accra radio station, city fm, Mr. Kufour wondered how former ministers who had serious issues with the role of the Attorney-General's Office in the matter could submit themselves to a probe by an institution under the ambit of the Attorney-General's Office.
Hear him: "EOCO does not have the legal mandate to investigate issues from Parliament. EOCO's investigation is a conflict of interest because EOCO is under the Attorney-General's department.
"The Attorney-General's Office itself is suspect; EOCO reports to that office. So if you want me to answer openly and sincerely, that's not the place to take me"
Well said, but put Mr. Kufuor's rhetoric to the test, and you will soon find out that it is not more than empty and mischievous claim.
Since when did EOCO become illegality? Is EOCO not a lawful agency under the constitution of Ghana? Is Kufuor saying that parliament committed illegality by passing Act 804 which brought EOCO into being?
The mandate of EOCO is clearly set out by the EOCO Act. The relevant provisions at Sections 3(1) (a), (b), (c), (d) and (2) S. 12, and S. 13 indicate clearly that the mandate to investigate any suspected fraud is inherent in the Office and can be activated by the Executive Director without reference to any other authority or agency of State.
The Office was established as a specialized agency of government to monitor, investigate, and on the authority of the Attorney-General, prosecute any offence involving serious financial and economic loss to the state.
According to act 804, EOCO's functions are not diametrically opposed to the police service. EOCO, just like the police, investigate and prosecute on the orders of the Attorney-General.
Let us not confuse EOCO with the SFO. EOCO is a corporate body with perpetual succession which can sue and be sued. The Attorney-General does not and cannot control the operations of EOCO. It has the mandate to investigate "serious offences."
Rather than encouraging illegality, Kufuor should spend some time to examine himself very well and see if ,as president, he used these laws he claim today are illegal. Has Kufuor taken a look at the national reconciliation commission he established as president in 2001 and his own interest in that matter viz the conflict of interest issue he is raising against EOCO?
How can former President Kufuor aver that EOCO has no mandate to investigate the judgment debt saga? When Kufuor said "EOCO cannot investigate a matter it has interest in," what does that mean? Where is EOCO's interest in this matter?
Infact, I don't blame Mr. Kufuor for his lack of grasp on the law that established EOCO. He seems to have forgotten so soon.
If Kufour cares to know, EOCO is a corporate body with perpetual succession which can sue and be sued. It is an act of parliament established under ACT 804, and I wonder why a former President can display such incompetence on statutory laws he once worked with.
How strange and interesting can it get? On one hand, Mr Kufuor and the NPP are screaming fraud, and on the other hand, they are saying, "we will not co-operate with EOCO to investigate the fraud." Why are they so ugly in their thinking?
Isn't it strange to see proponents of rule of law run away from the law?
It is a fallacy to claim that EOCO has no legal mandate to investigate the matter. Investigation by EOCO does not in any way bar parliament from setting up a committee to look into the matter. EOCO's action is within the remit of the law. Moreover, it will be a misnomer and a mark of ineptitude on the part of anyone to think that a body within the executive cannot investigate it.
Not quite long ago, the Chief Justice who is part of the judiciary formed a committee to investigate the same judiciary, and the report submitted to the same judiciary. The police have an organ that investigates any criminal activity within the service, so is the military.
In any case, who says EOCO's investigation is being premised on the Auditor General's report? EOCO is investigating a "SERIOUS OFFENCE" as stipulated in ACT 80!
Isn't it sad for a former President to say that the people should not obey the law? Isn't it also sad that Kufuor who has been President for eight years, is endorsing lawlessness?
These same state institutions were used under Kufuor's eight years rule to hound his perceived enemies, and today , he is saying that the laws he used to govern the state in the past are no longer legal. What has become of us?
We talk about making our institutions strong, so why run away and say we can't trust this or that when we, as a nation, have the institutions to fight crime?
The Economic and Organized Crime Office (EOCO) must, as a matter of urgency, invoke all its powers under Act 804! We must not allow this fraudulent hoax to pass! Yaw Osafo Maafo and any other person who can help with its investigations must be compelled to come before it and tell Ghanaians the role they played in the contractual issues relating to the controversial judgment debt.
We are building strong institutions and must not allow Yaw Osafo Maafo and his fascist NPP to derail our forward march to a secure future.
Emmanuel Dela Coffie
www.delacoffie.wordpress.com