Gabon ruling party split deepens with new rival to President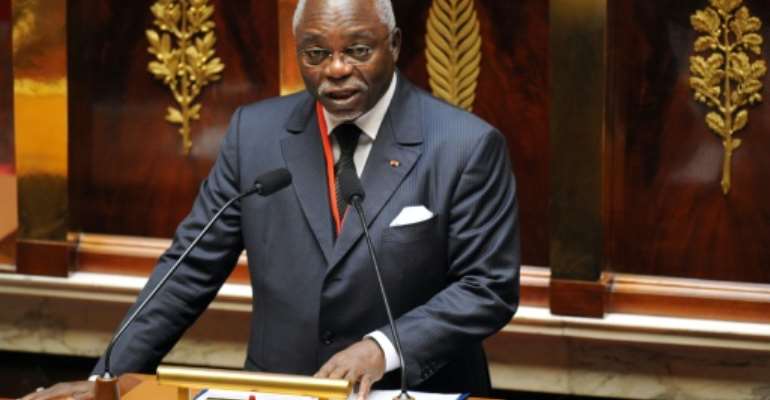 Libreville (AFP) - Niger's outgoing parliamentary leader Guy Nzouba Ndama on Tuesday announced he will stand in this year's presidential election against incumbent Ali Bongo Ondimba, widening a split in the ruling party.
A well-known figure in Gabonese politics, Nzouba Ndama resigned his post last week along with nine MPs, part of a growing rebel faction seeking to prevent Bongo from gaining re-election.
Speaking in front of hundreds of supporters in Libreville, Nzouba Ndama said he wished to distance himself from the ruling Gabonese Democratic Party (PDG).
Bongo's bid to secure a second seven-year term in the small, oil-rich nation has been formally endorsed by the ruling party.
Despite the hopes raised by Bongo during his election in 2009. following the death of his father Omar Bongo who had been president since 1967, "a sort of anaesthesia" has spread throughout the government, to the detriment of the infrastructure, schools, hospitals and economic development, said Nzouba Ndama.
He also accused those close to the president of "despising the weak and less fortunate with an indecent exhibition of the trappings of wealth" and of shifting huge amounts of capital to other countries as they treat Gabon as nothing more than a cash cow.
Back in 2009 the new presidential candidate Nzouba Ndama was a key supporter of Ali Bongo as he took up the reins from his late father.
But the excited crowd who hailed Nzouba Ndama on Tuesday chanted: "We are tired of the name Bongo, liberate the country!"
Anger over the Bongos' one-family rule has prompted several senior ruling party figures to defect to the opposition, including former African Union commission chief Jean Ping who also plans to run for president in the upcoming polls slated for the second half of 2016.
Raymond Ndong Sima, a former prime minister under Ali Bongo, has also put his hat in the electoral ring.
The rebel faction has so far drawn support from around 15 MPs and former ministers within the PDG.
The single-round presidential election must be held by the end of August, but no firm date as been announced.
Nzouba Ndama, who served as parliamentary leader for 20 years, and the nine parliamentary deputies who resigned last week were angered by the expulsion of three fellow party members for creating a breakaway group which said it would field its own candidate as a result of Bongo's "disastrous track record".