WATCHING EMMANUEL TV WORKS MIRACLES?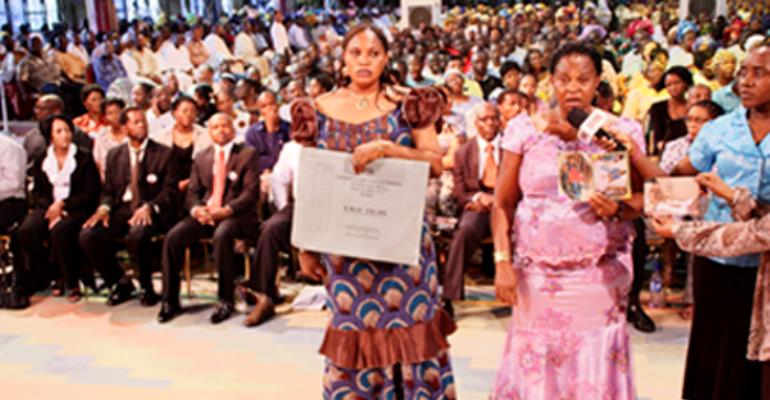 There have been an increasing number of accounts of those who claim to have been healed from various ailments, sicknesses after praying with T.B. Joshua of The Synagogue, Church Of All Nations through his television station, Emmanuel TV or through a video of the pastor praying on the internet.
One such account was published on the website of a ministry called Hungry Generation, based in Pasco, Washington State, USA. The woman, whose name is Lyubov Parkhotyuk, a mother of seven children, claims that she had been bleeding heavily for more than a month. As a nurse, she sought medical help and took various medications in an attempt to stop this bleeding, but the bleeding still continued.
The website reported that she prayed with T.B. Joshua on the eve of Saturday 5th November 2011, while watching Emmanuel TV and after the prayer, the bleeding immediately stopped. It claimed that at the time of writing, she has been free from the affliction for more than a week.
Another of these accounts came from a woman by the name of Mrs Appollonia Ezeugwu who watched Emmanuel TV and rose up from her wheelchair, the church website claims.
The website states that the woman was bedridden and wheel-chair bound after having an accident where both her legs were broken. As she watched another lady being prayed for on Emmanuel TV, she believed that she would also be healed. She was quoted as saying that as the lady she was watching rose up from her affliction, she rose up from her wheelchair without assistance from anyone. She testified that she can now walk freely and no longer experiences any pain. Her relatives, the website claims, also joined her to testify having witnessed her former dependence on a wheel-chair after an accident.
Another case is of a woman from Cameroon by the name of Safiatu who had a fibroid for the last six years but who felt the fibroid melting inside her as she prayed with T.B. Joshua and watched Emmanuel TV. After the prayer, she went to the toilet and saw thick blood coming out. She is now apparently pain free and fibroid free, according to the church website.
Could such accounts as these be true? Some of those claiming to receive their miracle in this way visit The SCOAN and give their testimony for viewers worldwide to hear. Nobody has openly come out to disrepute these claims of healing through watching Emmanuel TV.
What conclusion can we then reach? Does God still heal today? Can we say then that it is by chance that these people received their miracles through watching Emmanuel TV? Is it possible for God to use a medium of a TV screen of a computer screen to touch sick bodies and restore good health? Could people truly be formulating all the testimonies that are given?
Whatever the answers are to these questions, what one definitely cannot choose to do is to ignore them, brush them aside or sweep them under a rug as if they were not heard or seen.
If these claims are false, then they need to be exposed as such. And if they are true, the world needs to hear about it – that there is healing for their sicknesses, relief for their afflictions and there is a solution to their problems, by faith in the name of Jesus.
If these claims are true, the world needs to know that Jesus Christ is still alive and still heals today and that The SCOAN is one of those ministries that Jesus is choosing to work through in this generation. We are living in a world of darkness and deception, if there is a true light that is really shining, as Christians, the last thing we should do is to hide it under a bowl (Matthew 5:15).
http://www.hungrygeneration.net/2011/11/heavy-bleeding-stopped-after-prayer-with-tb-joshua/#respond
http://distanceisnotabarrier.wordpress.com/2011/11/02/break-the-cycle-of-life/
http://distanceisnotabarrier.wordpress.com/2011/11/05/everything-was-flushed-out/