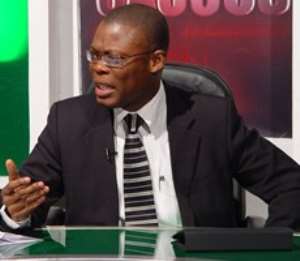 Fifi Kwetey
Tuesday's edition of Multi TV's political talk show, Majority Caucus, took a biblical turn when a Deputy Finance Minister, likened the stance adopted by the Minority members of parliament over the $3 billion loan facility from China to the biblical pair of Sanballat and Tobiah who tried to frustrate the efforts of Prophet Nehemiah in rebuilding the broken walls of Jerusalem.
According to Mr Fifi Kwetey, "Nehemia [NDC] is trying very hard to rebuild the walls and Sanballat and Tobiah [NPP] is trying very hard to roll back the development, that is exactly what is happening."
He added that the opposition party is "virtually fasting" for all the wrong reasons hoping that something negative would happen to the NDC's efforts to enable them return to power, "but Insha Allah they will be in the wilderness for so long."
Parliament was on Monday recalled from recess to consider a $3 billion loan facility from the China Development Fund earmarked for development projects on the country's Western corridor. But the Minority MPs have raised some concerns over the deal.
The MPs contend that the agreement lacks depth and appears to be an attempt by government to seek a blanket approval to spend the $3 billion at will.
But speaking on Majority Caucus, Mr. Kwetey disagreed with the arguments raised by the Minority, describing the stance taken by the opposition MPs as unfortunate.
According to him, the NPP has a history of opposing any developmental projects initiated by a government which is not from their party.
The Deputy Finance Minister took a swipe at the opposition party accusing it of being hypocritical because in his opinion they presided over the approval of a controversial loan under similar circumstances in 2002.
"When the NPP was going in for the hair dressing salon loan, I remember specifically J. H Mensah declaring on the floor of Parliament that the NDC was envious because they were bringing in $1 billion, and [with] that $1 billion that the NPP was talking about, in the year 2002, they had not even submitted feasibility studies, they didn't even have an idea what project they had in mind if that $1 billion was made available as opposed to ours" he argued.
The Deputy Finance Minister disagreed with claims by the opposition that Ghana's economy is not strong enough to service the $3 billion dollar loan.
"A nation that is now an oil producing economy, a nation whose GDP has just been boosted by virtue of the rebasing and therefore is a much bigger economy, a nation that by virtue of being an oil economy is now moving into a realm of accelerated growth. If a nation in 2011 cannot take 3 billion how on earth will they justify the one billion dollar hairdressing salon they took in2002?" he quizzed


Story by Ewurabena Yorke/ Multi TV