2.5m Ghanaians Use Internet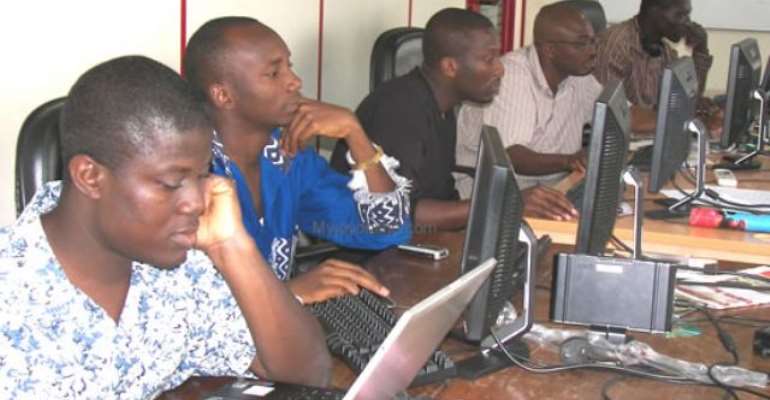 The number of Ghanaians who have access to the internet is gradually increasing as almost 2.5 million people now use the internet in the country.
Barely 10 years ago, the story was different since the total number of internet subscribers in 1999 stood at 13,000. Subscriber per 10,000 people was 6.88 percent and a year later the number of internet users increased to 20,000.
Current data available indicate that over two million Ghanaians have access to the internet.
Amar Deep Hari, Chief Executive Officer (CEO) of IPMC Ghana, in an interview in Accra, stated that between 2 million and 2.5 million Ghanaians presently have access to the internet.
He said out of the number 800,000 people are facebook users 'and it is expected that the number will hit one million in the next three months.'
Facebook is a social networking website that has since 2004 been used as a platform for linking people.
Anyone aged over 13 with a valid e-mail address can create a facebook account where they can post their pictures, comment and also meet friends and keep up on what they are doing.
The problem in Ghana is about connectivity and access to computers.
For many years computers were heavily taxed and that did not help the nation's technological advancement but it is now duty free and that is seriously engaging the attention of prospective internet users.
In Ghana today, many schools, businesses and government agencies are getting computerized.
Some tertiary institutions have started distant education programmes and the availability of internet connectivity is making it easy for students to undertake lessons and assignments.
There are quite a number of initiatives that are geared towards developing internet connectivity.
The Ghana Chapter of the Internet Society, which intends to promote the expansion of the internet in Ghana, is focused on the rural communities.
Globacom, which has laid submarine cables, is set for a revolution in internet connectivity and Ghanaians can now enjoy super fast internet connectivity.
Main One Cable Company Limited is the first privately-owned submarine network cable company that offers open access, wholesale broadband capacity with landing stations in Nigeria, Portugal and Ghana to connect West Africa to the rest of the world.
A fortnight ago, Globacom laid its Glo-1 high-capacity submarine fibre optic cable which would add 640 gigabytes bandwidth capacity to Ghana's broadband infrastructure and connect Ghana and West Africa to Europe and North America.
Haruna Iddrisu, Minister for Communication, in an interview, said government intends to establish Ghana as an ICT hub in the sub-region, adding that it aims to implement an ICT-led socio-economic development policy and an e-strategy plan.
Government, as part of its e-governance system, is embarking on a project dubbed the centralized services portal that would enable the public have easy access to government services online.
The portal, which is expected to be ready by the end of July, this year, will enhance efficient services in departments and agencies that handle driver's license, company registration, land documentation, among others.
'People will no longer have to travel long distances to access these services. I can not wait for the end of July,' said Hon. Haruna.
By Emelia Ennin Abbey