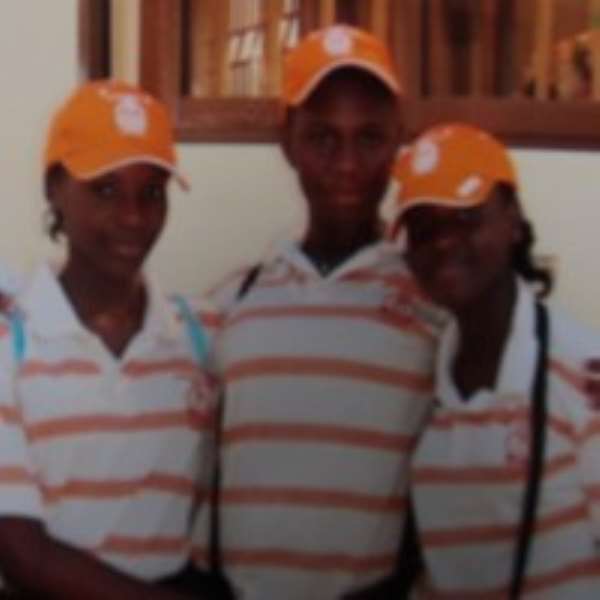 •From Left: Melisah Donkoh, Ann-Marie Donkoh and Mercy Akrofi
Information reaching DAILY GUIDE indicates that Melisah Donkoh, one of the victims of the January 13 accident that claimed three lives in Takoradi, has passed away, bringing the number of deaths in the accident to four.
Melisah, who was seriously injured and was flown to the Korle-Bu Teaching Hospital for further treatment after a brief admission at the Effia-Nkwanta Regional Hospital in Sekondi, passed away in the early hours of yesterday.
Pius Donkoh, 7 and Awurukua Smith, 11, both of Agyiba International School in Takoradi and Perpetual Christian Oppong, in her early 50s, were also crushed to death in the accident by an articulated truck with registration number AS 1140 N.
Melisah, 13, and two of her siblings, Pius Donkoh and Ann-Marie Donkoh, all pupils of the same school, were hit by the articulated truck  at a zebra crossing on the Kwesimintsim-Takoradi highway.
Pius and Ewurakua Smith, who were also hit by the vehicle, died on the spot, while Ann-Marie and Melisah sustained injuries.
The injured persons were initially sent to the Effia-Nkwanta Hospital for treatment.
Ann-Marie was treated and discharged but, Melisah, whose condition was critical, was flown to the Korle-Bu Teaching Hospital in Accra where she died yesterday as confirmed by Ernestina Woolley, grandmother of the deceased.
The little girl's family would hold a meeting today to decide on the date for her burial. Awurakua and Pius were buried on Tuesday, January 18 and Wednesday, January 19 respectively.
Mohammed Abass, 31, who was driving the articulated truck that allegedly hit and killed the school kids and the elderly woman, was put before court on Monday January 17, 2011 on provisional charges of careless and inconsiderate driving, as well as negligently causing harm.
His plea was not taken and his prosecutor, Albert Deletsa, pleaded with the court to remand the accused in police custody to assist in investigations.
The court, presided over by Charles Nimako, therefore remanded the accused to re-appear in court on February 2, 2011.
From Emmanuel Opoku, Takoradi