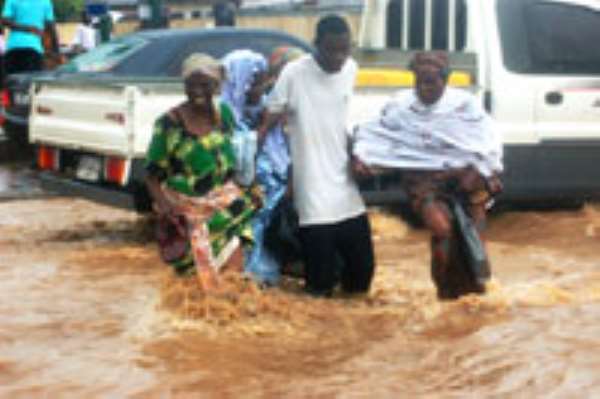 Veep outline plans against future floods:
Accra, Nov. 4, GNA - Vice President John Dramani Mahama on Thursday announced plans to mitigate the plight of flood victims in some parts of the country. He said government in partnership with the United Nations Agencies had mobilized quantities of food and other relief items amounting to $5 million to be distributed to the victims.
Some officials called on the Vice President to announce their support to the government to take care of the flood victims in the Central Gonja, West Gonja and West Mamprusi districts in the Northern Region, Dambai in the Krachi District of the Volta Region and some parts of the Upper East, Upper West and Brong Ahafo regions.
Vice President Mahama also announced that the World Bank had pledged $4million with a counterpart amount of GH¢5 million from government to establish long term plans to avoid the recurrence of floods in the affected areas.
Vice President Mahama said a projection of $60 million had been earmarked by government and its development partners to construct and irrigate more dams to boost food and cash crop production in the country.
900 bags of maize, 300 bags of rice and 44 cartons of oil would be donated to the flood victims.
Why has the Ghana government systematically and intentionally left some teachers in the country aside without paying them for over one good year? Those teachers who have no money to buy food, pay for medical treatment, not to talk about paying their rents and as a result lose their rooms are almost in the similar situations like the flood victims in the country.
The Minister of Education Mr. Tetteh Enyo is commissioning new classrooms blocks but teachers are not paid their salaries. What is that sort of governance? I am afraid if the NDC government is not encouraging criminalities on the other way round. We must not forget that sometimes "snakes bite due to threatens in their territorial room and there is no smoke without fire".
The Government must stop (the Political) discriminating among the teachers and pay those teachers with immediate effect before they turn to Armed Robbers in the night.
How do we expect such disappointed teachers to tell their Pupils who the President of Ghana is?
FRANCIS TAWIAH (Duisburg – Germany)