Margaret Amoakohene appointed Ag. Director of School of Communication Studies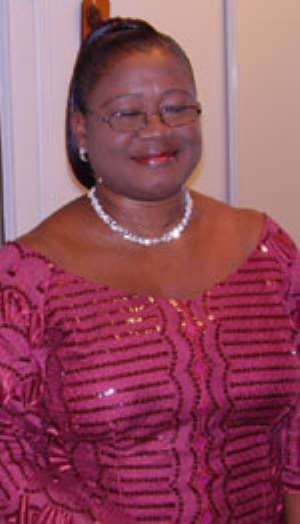 Dr. Margaret Ivy Amoakohene, a Senior Lecturer at the School of Communication Studies of the University of Ghana, has been appointed Ag. Director of the School, effective August 1, 2010.
Dr. Amoakohene takes over from Dr. Audrey Gadzekpo, also a Senior Lecture at the School.
The School of Communication Studies is a post-graduate school of the University of Ghana that offers Master of Arts (MA) and Master of Philosophy (M.Phil) courses in Communication.
Biography
Born on July 17, 1960 at Wenchi in the Brong Ahafo Region, Margaret Ivy Amoakohene is a native of Nsawkaw, capital of the Tain District also in the Brong Ahafo Region.
She had her secondary education at St. Francis Secondary School, Jirapa, in the Upper West Region of Ghana, where she obtained her GCE Ordinary Level certificate.
She continued her secondary education and obtained her GCE Advanced Level certificate at St. Louis Secondary School, Kumasi, from where she gained admission to the University of Ghana in 1981.
Margaret Amoakohene holds a Doctor of Philosophy (PhD) degree in Mass Communication from the University of Leicester, England, where she pursued doctoral studies at the Department of Media and Communications.
Her doctoral thesis was titled: Political Communication in an Emerging Democracy: A Comparative Analysis of Media Coverage of Two Presidential Administrations in the Fourth Republic of Ghana.
She also possesses a Master of Philosophy (MPhil) degree and a Post-graduate Diploma in Communication Studies as well as a Bachelor of Arts (BA) Honours degree in French and Spanish from the University of Ghana where she has since September 1992 lectured in Public Relations, Qualitative Research Methods and Mass Communication.
Dr. Amoakohene has held many positions both in the University of Ghana and in Ghanaian national life serving on several boards and committees including the following:
Senior Tutor - Mensah Sarbah Hall
Chairperson - Tutorial Board, Mensah Sarbah Hall
Board Member - Residence Board
Member - Board of the Faculty of Social Studies
Member - Academic Board
Treasurer - University Teachers' Association of Ghana (UTAG), Legon
She has actively participated in national discussions and debates.
She has previously served on the National Media Commission (NMC) and the Board of the Ghana News Agency (GNA).
She has been a member of the Board of Directors of the Ghana Broadcasting Corporation (GBC) and the National Film and Television Institute (NAFTI).
She has also served as Honorary Secretary, and Vice-President of the Institute of Public Relations (IPR), Ghana.
Dr. Amoakohene is the immediate past Ghana High Commissioner to Canada, serving the country in Ottawa, from July 2006 to February 2009.