26 May 2010
|
Togo
3,500 Ghanaians Flee To Togo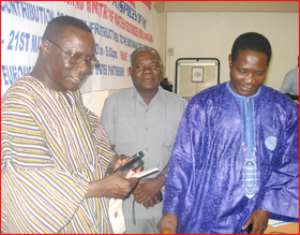 THOUSANDS OF Ghanaians living in the Northern parts of the country have fled to Togo as refugees, following sporadic but bloody ethnic clashes that have claimed several lives and displaced families.
Sources in Togo say the Ghanaian refugees started arriving in the country only last week and so far, they number around 3,500, comprising mostly women, children and teenage girls.
This is the first time in several years that the country has recorded an exodus of its citizens to neighbouring countries as refugees.
In 1994-95, land disputes in northern Ghana led to ethnic violence, resulting in the deaths of 1,000 people and the displacement of a further 150,000.
Ghana's Minister for Information, John Tia, on Tuesday confirmed the development but said the number cannot be up to 3,500 persons.
The Information Minister however failed to produce what he believes are the actual numbers.
Though Mr. Tia, apparent down-playing the issue, says, "Life has returned to normal", many more Ghanaians are still fleeing to Togo to seek asylum, carrying the remnants of their personal belongings.
DAILY GUIDE's checks revealed that most of the refugees escaped the Bunkpurugu Yunyoo conflict of the Northern Region and are currently living in temporary shelter camps set up for them in Tandjouare, a northern Togolese town.
Meanwhile, apart from Bawku in the Upper East region, all the other parts of Ghana are relatively stable and have not been affected by the disturbance, with many being oblivious of the development up north.
Reports say the United Nations High Commissioner for Refugees (UNHCR) is working with the Government of Togo to provide food and medicare for the fleeing Ghanaians.
The BBC has reported that Togo's Security Minister, Colonel Mohammed Atcha Titikpina, has visited the Ghanaian refugee camp.
He was quoted to have said: "We have come in the name of the government of Togo to express our sympathies and solidarity with our [Ghanaian] brothers and sisters.
"Our immediate task is to find the resources to provide these refugees with emergency relief supplies, security, feeding, clothing and temporary rehabilitation structures."
Back in Ghana, the John Atta Mills-led Government has tasked the National Disaster Management Organization (NADMO) to move in with food supplies for the displaced persons.
Government is also jaw-jawing with the Northern Regional House of Chiefs and traditional councils of the affected districts to restore normalcy.
By Halifax Ansah-Addo