US East Coast Ashantis celebrate Akwasidae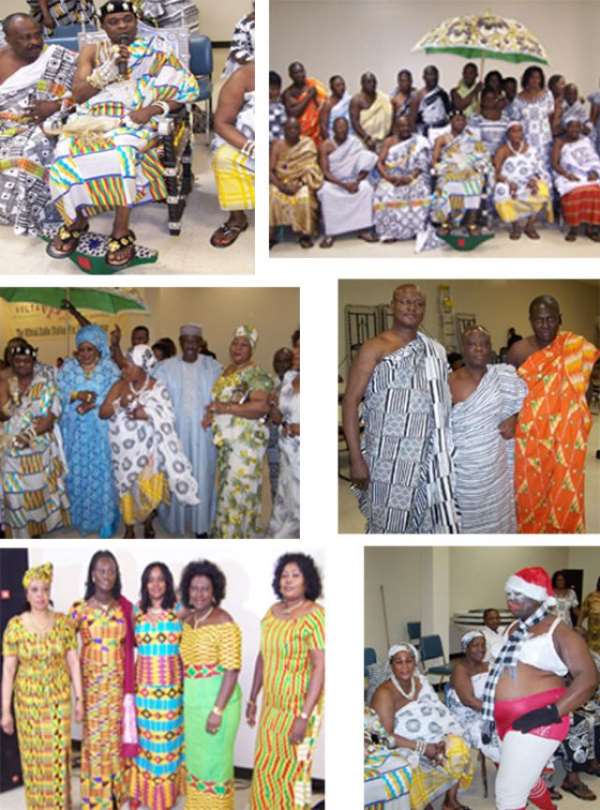 The Ashantis, with a very rich culture in Ghana, celebrate one of the most colourful festivals, being the Akwasidae Festival.
The celebration marks a period of stocktaking and fervent assessment of events in the life of the Ashantis.
It serves as a period to propitiate the ancestors, through whom Ashanti unity gains its grounds.
Daasebre Anane Amponsah paid tribute to His Majesty Otumfuo Osei Tutu II, the Asantehene, for his development-oriented agenda, and his fatherly advice to Ghanaians in the diaspora, that "Let God fearing, Love, Unity and hard work be your focus."
As part of activities rounding up the year, the Ashanti community in New York, under the leadership of Daasebre Anane Amponsah, celebrated the Akwasidae Festival, which brought together Ashantis from various parts of the East Coast, in a very colorful ceremony.
Clad in beautiful kente clothing, with ornaments and golden regalia to match, Daasebre Anane Amponsah advised the Ghanaians to be law-abiding and respect the laws of their various areas of domicile.
Pictures
1. The Asantefuohene of New York, Daasabere Anane Amponsah, giving advice to the invited guests at the Akwasidie event
2. Nananom and some of the Asanteman Association pose for the camera.
3. The Asantefuohene and Obaahema of New York, and Hajia Manatu dancing adowa
4. Nana Oduro Senya, Nana Owusu Detwah and Nana Kwabena Amakye
5. These beautiful women dressed neatly in the Kente cloth to grace the occassion
6. Ice Kenkey, the ace comedian, doing what he knows best