Guinea Vice-Prez Takes Helm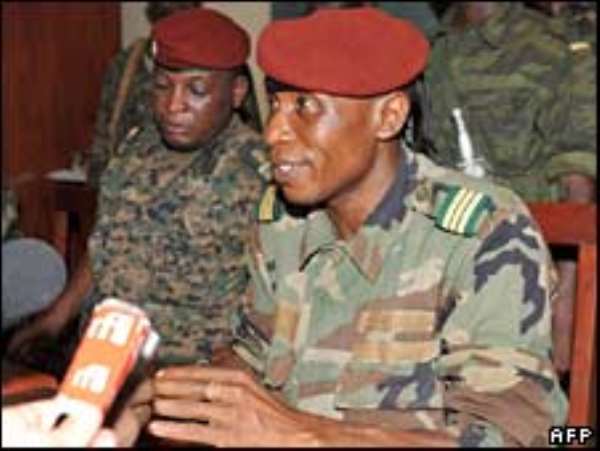 Capt. Moussa Dadis Camara
Guinea's vice-president has returned from business abroad to take charge of the country after an attempted assassination on the president.
President Moussa Dadis Camara was flown to Morocco, where a spokesman said he underwent a "minor operation" after being shot on Thursday.
Vice-President Sekouba Konate returned from Lebanon to take charge.
The aide who allegedly shot Capt Camara remains on the run. The capital city Conakry was calm after the violence.
The airport was heavily guarded as Mr Konate, who is also the defence minister, returned on Saturday to fill the gap left by Capt Camara.
The military were patrolling the streets, but people were going about their business.
The president's spokesman said his life was not in danger.
It was believed to be the first time Capt Camara had left the country since seizing power last December.
Details of his injuries were unclear, with some reports saying it was a minor graze on his head, while others saying it was multiple gunshot wounds.
The president of neighbouring Burkina Faso, Blaise Compaore, told state television that Capt Camara was in a "difficult but not desperate" condition after the attack.
Minister of Communications Idrissa Cherif said Capt Camara's driver and bodyguard were killed in the attack when they were attacked with machetes, Associated Press news agency reported.
The senior aide allegedly responsible, Major Aboubacar Diakite, has gone into hiding.
He told AFP news agency he was hiding in "a safe place" somewhere in Guinea, and that he had "a fair number of men" with him.
"I am in Guinea, I am free to move about," he said, but refused to discuss the attack.
Road-blocks set up on the two main roads into Conakry by security forces after the attack have since been lifted.
Analysts say the shooting highlights deep rifts within the junta after the killing of an estimated 157 opposition supporters in September.
BBC