GOV`TO MISS INFLATION TARGET…despite projections by CEPA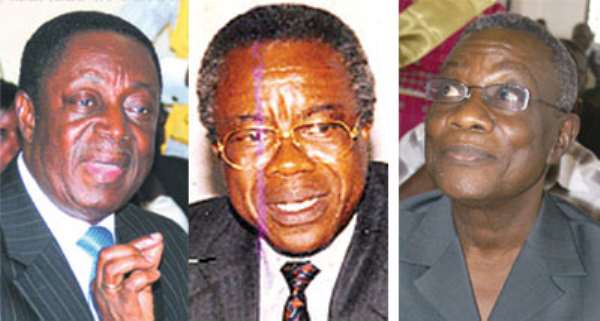 The policy think tank, Danquah Institute, has predicted that Government is "very likely" to miss its revised end-of-year inflation target of 14.5%, despite projections by the highly reputable Centre for Policy Analysis (CEPA) that inflation could fall to 14.2% by the end of December.
The institute also fears that World Bank prediction that another 500,000 Ghanaians would fall below the poverty line by 2010 "may be alarmingly conservative, considering subsequent unimpressive economic indicators since that prediction was made in June."
With next year's budget expected to be read this week, the Danquah Institute has also warned against the temptation of raising taxes as it suspects Government is inclined to do due to difficulties the Finance Ministry is facing , bridging huge gaps in financing its spending plans for 2010.
In a statement issued yesterday, the Danquah Institute warned - "We suspect that the Finance Minister is having problems covering a large financing gap in the forthcoming budget. What is clear is that Government's decision to reduce some petroleum taxes for political reasons has reduced its fiscal manoeuvrability."
The statement continues, "Under such circumstances, the temptation to increase taxes on petroleum products, reverse some of the tax waivers granted in 2008 on food imports, as well as reduce the number of items that enjoy VAT exemptions may be strong.
However, the negative effects that any increase in taxes may have on an economy that has suffered serious confidence crisis this year should be given the necessary consideration." DI's own projection is that inflation figure for December is "likely to be 17.6%." Government revised its earlier inflation target of 12.5% to 14.5%.
Also, DI projects an annual average inflation rate of 19.47%, which it says is more relevant to how Ghanaians' general standard of living would fare this year than end-of-year inflation rate.What the Danquah Institute finds worrying about its projected 19.47% inflation rate is "what that rate says about the devaluation that the Ghanaian worker's pay has suffered this year."
Public sector workers witnessed a marginal increase in salaries this year. "With government capping public sector pay under a ceiling of 17% increment. An annual average inflation rate of 19.47% would mean that the worker would be at best nearly three percentage points poorer than she was in 2008.
"This is a major reversal in the fortunes of the Ghanaian teacher, nurse or police officer, when compared to the fact that public sector pay went up by 40% in real terms from 2006 to 2008. This would translate into the first reduction in purchasing power after inflation of some important public sector workers like teachers, since 2003," says Mr Otchere-Darko.
DI believes that the prediction from the World Bank that another half a million Ghanaians would drop below the poverty line by 2010 "may even be a conservative estimate. There are clear signs that the Ministry of Finance is having difficulties finding money to stimulate the economy, particularly, the important area of infrastructural spending."
The DI statement adds, "There are also no signs of interest rates coming down to assist businesses in expansion and job creation. Yet, the Governor of the Bank of Ghana may throw caution to the wind and reduce the prime rate by a percentage point or so. The question is: would the banking industry buy it?"
Analysts at the liberal think tank expect another big drop in inflation in November, similar to August and September, in spite of the disappointingly low 0.9 percentage drop for October. "Though consumer activity has clearly picked up in November, so long as fuel prices don't go up and there are no tax surprises in the budget we are confident of a greater drop in inflation for November than what we saw last month," said the Executive Director of the Danquah Institute, Gabby Asare Otchere-Darko.
He said, even though the budget to be read this week is for 2010, "news of pending tax increases can affect pricing and spending this year." But, the think tank is adamant that "there is absolutely no way that Government's end of year inflation target of 14.5% can be met. All things being equal we expect inflation to at best drop by to 17.4% for November."
Checks made by the institute show that suppliers of manufactured goods, such as electrical goods, have a lot in local stock, due to the general slowdown in consumer activity throughout the year. "So consumption increases need not lead to an equal corresponding rises in prices," Mr Otchere-Darko argues. "We also expect a reversal to upward inflationary movement for the Christmas season. Thankfully, we may be able to count on some counter-prevailing indicators," he adds.
The Executive Director of DI explained that "The phenomenon of significantly high consumer demand in December is likely to be helped by a weakening dollar, thereby suppressing related inflationary pressures." Notwithstanding, "It is our prediction that end of year inflation may hit 17.6%. This will depend, partly, on the cedi continuing to hold its own against the dollar, at least."
He, however, attributed the stability of the cedi to the dollar to be due partly to "the huge reduction we have witnessed this year with Ghana's import bill. For example, the total import bill for 2008 rose by 27.2% from US$8.1 billion in 2007 to US$10.3 billion. Total merchandise imports for the first half of 2008 amounted to US$5 billion. But, we have seen a 20% decline for the first half of this year to US$4 billion."
Mr Otchere-Darko thinks "Government should be cautious about taking too much credit for increasing import cover of Ghana's gross international reserves." As at September 18, 2009, gross international reserves stood at US$2,270.21 million, including new SDR allocations. This represented a 2.2 months cover of imports of goods and services.
"Though this figure compares favourably with the 2008 end of year reserves of US$2,036.2 million, representing 1.8 months of import cover," the head of DI argues, "this must be analysed with the understanding that when your import bill reduces you don't need a lot of dollars in reserves to offer sufficient cover. For instance, oil imports alone for January to August 2009 was US$581.55 million as against US1,326.46 million for the same period in 2008."