Journalism is not about building houses - Anas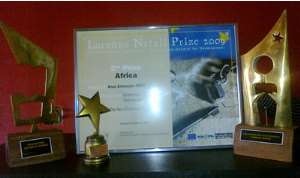 Listen to Anas speaking to Oppong-Nkrumah© Copyright Myjoyonline
The 2006 Journalist of the Year, Anas Aremeyaw Anas of the New Crusading Guide, has advised aspiring journalists to focus on issue oriented journalism and not material riches.
The multi-award winning journalist was speaking to Joy FM's Kojo Oppong-Nkrumah on the Super Morning Show Thursday.
Last Friday, he was adjudged winner of two awards at the 2009 edition of the Norbert Zongo Awards.
Anas was awarded the Norbert Zongo Grand Prize in Investigative journalism and the Segbo Excellence in Investigative Journalism 2009, for his groundbreaking expose on the work of Chinese human traffickers in Africa, which saw the rescue of seven trafficked Chinese girls and the prosecution of the three human traffickers.
Anas gave the advice against the background that aspiring journalists, especially the young ones, see the profession as one that would better their lives materially.
But he warns that "If you start this job and you think that it is all about money, forget it. You won't make it because we don't build houses in this profession."
According to him, investigative journalism is about people and their development. He noted that to him, issues-oriented journalism should lead to some kind of prosecution.
Anas asserted that the time one may spend on a particular story does not really matter because in the end, one would have made thorough research and the findings will be accurate.
"Don't do stories that will create doubts in people's head," he cautioned. "If I say that this man did this, I give you the video, voice and still pictures."
He said "undercover journalism is about living with the situation; that is the only way you can understand what is happening."
Admitting the risks involved in this type of journalism, Anas stressed that "there is a bigger risk if you do a story that is not authentic," emphasizing that aspiring journalists should bear in mind that they have their integrity and that of their media houses to protect.
By: Dorcas Efe Mensah/myjoyonline