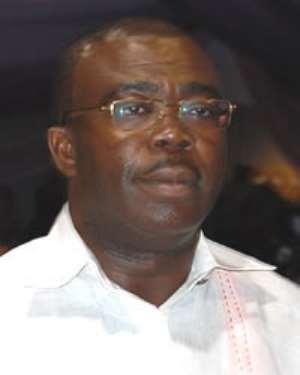 Former Information Minister, Stephen Asamoah Boateng faces nine criminal charges including a breech of the Procurement Law.


Listen to Peter Okudzeto, counsel for Asamoah Boateng© Copyright myjoyonline
Former Information Minister Stephen Asamoah Boateng, and his former deputy Frank Agyekum are due to appear in court today Monday to answer charges of conspiracy to defraud the state of $86,000.
Wife of Mr Asamoah Boateng, Zuleika, and four others will also appear before the court on the same charges.
Nine criminal charges were formally preferred against the former minister and his alleged accomplices last Friday.
Mr. Asamoah Boateng, who had voluntarily presented himself to the Bureau of National Investigations was detained on Friday but released on BNI bail Saturday.
The charges are in connection with an $86,000 contract awarded a firm belonging to his sister-in-law for renovation works at the Information Ministry while he was the minister.
He and the six others standing trial are expected to plead not guilty to all nine charges.
Mr Asamoah Boateng's bail was conditioned on two justifiable sureties.
Lawyer for Mr Asamoah Boateng, Peter Okudzeto has declined comment on what his client may plead, however sources close to the former minister have hinted his lawyers would enter a plea of not guilty for him.
Joy News reporter Sammy Darko reported shortly before Monday's proceedings that there is a heavy security presence at the court, located in the Supreme Court building in Accra, to keep supporters and party activists at bay.
Play attached audio for excerpts of Lawyer Okudzeto's comments