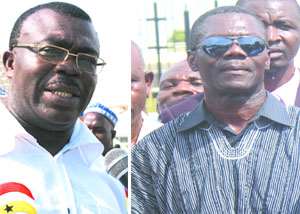 Mr. Asamoah Boateng, Ex-Minister of Information (left), Gbevlo Lartey, National Security Boss (right)
A FORMER Minister of Information and National Orientation, Mr. Stephen Asamoah Boateng, a.k.a "Asabee", was yesterday arrested and put behind bars when he turned himself in, to the Bureau of National Investigation (BNI) who had earlier declared him a wanted man, after failing to locate him on addresses he provided. Asabee, former Member of Parliament for Mfantsiman West in the Central region will be appearing in court this morning to face criminal charges that are being prepared against him.
Mr. Asamoah Boateng, whose wife Zuleika, recently won a case against the BNI over the seizure of her passport, walked into the offices of the BNI yesterday at about 1.15pm in the company of his lawyers, but he was immediately arrested. According to BNI sources, the decision to detain the former Minister and put him before court today, stemmed from his failure to cooperate with the state investigative agency.
Asabee, who has sued the BNI for restricting his movement, has always argued that he would not honour any invitation from the security agency through telephone.
He is alleged to have awarded a contract for the tiling of the Ministry of Information conference room and other renovational works at the Ministry to the tune of GH¢86,000 to Plexiform Ventures, a company allegedly owned by Irene Lorwie, the Minister's sister in law. It is also being alleged that though the contract exceeded the threshold permitted by law, it was not put on tender. The contract was also believed to have been bloated by GH¢30,000.
When Ms Irene Lorwie appeared before the BNI, she denied knowledge of the contract.
According to her, Zuleika Lowie, her sister and wife of Asabee, requested for the documents of the company to be used for some business that she did not know about. A recent evaluation done by the Architectural and Engineering Services Limited (AESL), the government's accredited Valuer, indicates that work done at the site was a little over GH¢54,000.
In May this year, Mr. Dominic Sampong, Chief Director of the Ministry of Information, who had about two weeks left to go on retirement, wrote a letter to the Ministry of Finance and Economic Planning, on behalf of the current Minister of Information, Hon. Zita Okai Koi, asking for the full payment of GH¢86,000 being cost of the contract. It was this letter that prompted the BNI to investigate the case.