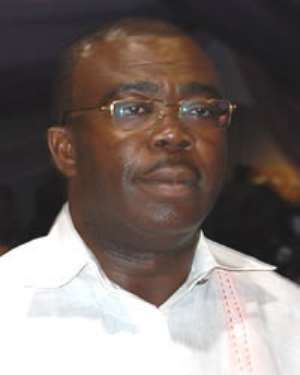 Former Information Minister Stephen Asamoah-Boateng

Ex-Information Minister, Stephen Asamoah Boateng, has been arrested and detained by the Bureau of National Investigations (BNI), his lawyer Peter Okudzeto told Joy News.
According to the counsel, his client was forcibly hounded into the BNI cell on Thursday 18:30 GMT without any formal charge.
Mr. Asamoah Boateng voluntarily handed himself to the investigative body, Thursday morning, following media reports that he was a fugitive of justice.
He is under investigation for alleged malfeasance in the award of contract to his sister-in-law for the refurbishment of the Ministry of Information last year.
Narrating what happened at the BNI office, Peter Okudzeto said they had waited for hours to see the director of BNI, only to be told late afternoon that they, the lawyers, could leave because their client was going to be detained.
They however resisted, arguing it was against the constitution and a breach of fundamental rights to interrogate their client without his counsel.
He said they demanded to know what charges had been preferred against their client, something the BNI officials were not ready to provide.
According to him, a scuffle ensued between officials of the BNI and ex-minister which led to the shoving of Zuleika Asamoah Boateng, wife of the ex-minister to the ground. Zuleika had insisted to be locked up together with her husband.
The counsel said they will meet to consider the next line of action.
Story by Nathan Gadugah/Myjoyonline.com/Ghana