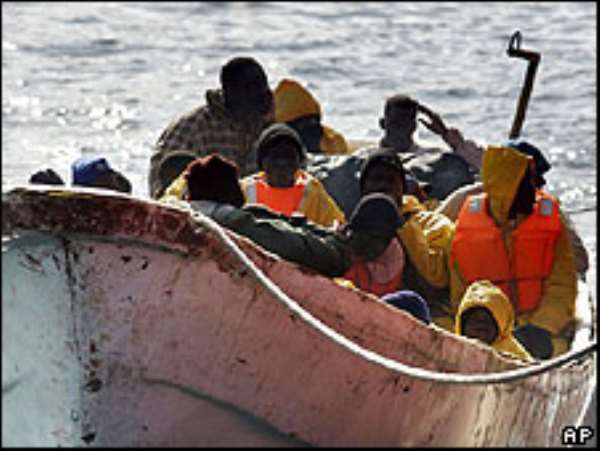 Ghana is hard. Life is difficult in Ghana. Life is really a struggle. To make it in life, one has to travel abroad. These are few of the perceptions many people in Ghana have. They seem not to be content with what is in Ghana or the available opportunities. Most of these people are the youth and they would do everything within their power to travel abroad. Some of the countries of destination include Spain, Italy, Britain, U.S.A among others.
According to statistics available at the International Organistion for Migration( I.O.M), at least 33,000 people crossed from North Africa to the Italian Island of Lampedusa in 2008 alone (Daily Graphic, 29th April, 2009, page 7). Those who desire to travel do not often take into consideration the job opportunities available `in those countries. All they want is to travel abroad and they believe that suffering in those countries is far better than being in Ghana. They do all kinds of jobs there from sweeping of streets, cleaning of toilets to washing of plates. These are jobs most of these people would probably not do in Ghana no matter the pay.
We have heard and read from both electronic and print media the difficulties some of our brothers and sisters go through especially those who pass through the Sahara desert. Some of them die of hunger and thirst whereas others are robbed and killed by thugs. Those who even get there are sometimes deported or thrown into jail or to say the least, live in fear.
It must be made clear that it is after all not greener abroad as we have been made to believe. A lot of our people face accommodation problems, job insecurity etc. There are many Ghanaians who have 'domesticated' here in Ghana and are making it than their colleagues who have traveled abroad for many years. I do not have to mention names, we are also aware of people who were taxi drivers, cleaners abroad only to come home to be made ministers of state.
However, I am mindful of the fact that Ghanaians abroad contribute a lot to our economy through remittances. Remittances amount to approximately 8% of Ghana's GDP (estimated at US $6,160million in 2002, Manuh, 2005, page 139). Migrant remittances can not be underestimated as it acquire vital imports or pay off external debts. Remittances also play an important role in reducing poverty (World Bank, 2006 in OSCE, IOM, ILO, 2007).
The global economic crisis however is affecting remittances negatively. The unemployment rate in February was the highest since 1983, and employers cut 651,000 workers from payrolls. The US has already lost 4.4 million jobs since the recession began in December 2007. (Daily Guide 12th March 2009, page 9).
One factor that has retarded development in our country and has not created opportunities for many youth leading to exodus of Ghanaians abroad is poor leadership. Most of our leaders are greedy, selfish and corrupt. According to Prof. Kwesi Wirudu, political corruption in Africa and for that matter Ghana is a moral pollution. To fight this we need what he calls a conceptual moral revolution. One early morning, I was listening to BBC Focus on Africa and it was reported that, 80 million pounds which Real Madrid FC paid to Manchester United FC for the services of Ronaldo can buy 10,000 Toyota corollas in Accra, Ghana, buy a bottle of coke for everybody in Nigeria and also it can buy mosquito net for everybody in Malawi. Also, it is the equivalent amount the government of Uganda has devoted for their 2009 budget on agriculture. Is it not a shame to Africans and African leaders in particular? Think about it.
It is about time the government and other stakeholders of development made it their core duty to create employment opportunities for the many youth who complete school but can not get jobs. If this is done I believe strongly that people will stay and help in the development process of the country. One way of doing this is to tackle vigorously the problems militating against the development of agriculture by constructing irrigation dams to aid dry season farming. Another way is to introduce entrepreneurship development as a course or as part of our educational curricula from the basic level through to the university level so that by the time the student comes out of school, he/she would be able to set up his/her own business.
All the green is fading away gradually. The message to those bent on going to seek greener pastures should be that, together, we can build on what we have here and enjoy the fruits in a friendlier and less stressful environment. Home sweet home. (Daily Graphic, 29th April, 2009, page7). We can make it right here in Ghana. What is needed is hard work, determination and positive mental attitude. The 'believe in Ghana' concept must come to stay and the abundant resources we have such as gold, diamond, manganese, cocoa and of course oil must be put into good and efficient use for the accelerated development of Ghana.

Long live Ghana!
Long live the people of Ghana!
Long live Africa!

Credit: Francis Xavier Tuokuu
National Service Personnel
University of Ghana
P.O. Box LG 59
Legon – Accra
([email protected])