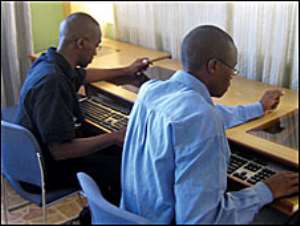 Deputy Superintendent of Police (DSP) Francis Baah, Head of Document and Visa Fraud Unit, said Ghana risked losing investors if cyber crime, popularly called Sakawa, was not eliminated.

He said victims were mostly foreigners and expressed the fear that prospective investors might doubt the genuineness of companies and other economic entities in the country, and avoid dealing with them.

DSP Baah was speaking at a forum on internet fraud, organised by Global Youth Action Network (GYAN), an international network of youth non-governmental organisations (NGOs), for selected Senior High Schools (SHSs) in the Accra Metropolis, under the theme: "The Internet Fraud (Sakawa) Syndrome and the Future of the Ghanaian Youth", in Accra.

The participating schools were Accra Academy, Accra High, Labone School, Wesley Grammar School, Kimbu School, O'rielly School, Great Lamptey Mills School and Catholic Social Advanced Institute.

DSP Baah said cyber fraud was sophisticated and the Police would require the support of other security agencies, parents, traditional authorities and religious organisations in fighting the canker.

He expressed worry that the practice was prevalent among teenage male students but gave the assurance that "the Police were adopting pro-active strategies to dismantle the syndicate aside periodic patrols to internet cafes in suspected areas."

DSP Baah said instead of studying to acquire skills and knowledge for national development, beneficiaries of the crime abandoned the classroom and engaged in dangerous, frightening and profligate lifestyles.

He said after losing their ill-gotten loot, society might suffer the wrath of cyber criminals, who would be compelled to engage in crimes such as armed robbery to sustain their lifestyles.

DSP Baah urged school authorities to sensitise students about the legal implications of cyber fraud and the effects on their development.

DSP Felix Mawusi, Second in Command, Commercial Crime Unit at the Police Headquarters, reminded the youth that even though cyber fraud did not involve physical violence, "It can be described as cyber terrorism and the punishment is also harsh like other serious crimes."

He said the youth should not be swollen-headed because society tagged them as future leaders.

DSP Felix Mawusi said that the youth were not automatic future leaders and explained that only those who would avoid crimes and study hard to acquire knowledge, skills and professions would get the opportunity to lead the next generation.

He said: "At your age you do not need to chase wealth and luxuries such as flashy cars. Life is not all about wealth and romance. It is the duty of your parents to provide you with basic needs and your responsibility is to focus and learn."

Mr. Kwame Anane Frempong, Country Director of GYAN-Ghana, said that Ghana had been blacklisted on many websites particularly e-commence sites because of the prevalence of cyber fraud in the country.

"What it means is that legitimate transactions originating from the country can not take place on the internet and this call for urgent attention to be directed at reducing or eliminating cyber fraud".

Mr. Frempong appealed to government to provide the right framework to support and encourage young people to equip themselves with skills to be able to play even and compete on the global job market.

A book on cyber fraud entitled: "High Way Narrow Way" was launched.

The network of youth NGOs envisions millions of young people working together towards a more just, peaceful and sustainable world, where the youth are seen as key stakeholders and are active participants in the design of their future.

It believes that critical issues facing the world require every generation's attention and action, and the youth are instrumental in movements for positive social change.