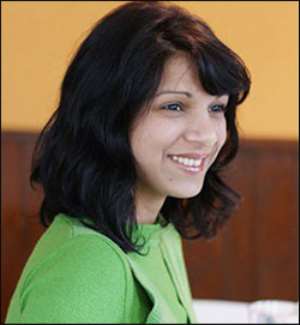 Alina Percea PUNTERS bidding on the internet for the chance to bed a teenager for the first time have been warned: "Her virginity is just a fairy tale."
Pretty brunette Alina Percea, 18, wants £50,000 to go ahead with the deal to lose her virginity – and says she may even marry her first lover if they fall for each other.
The student's ad on a dating website in Germany has already drawn bids of £5,000 for a steamy weekend with the Romanian.
But a teacher in her hometown of Caracal, southern Romania, has warned she is no longer a virgin and is only interested in getting famous.
Alexandru Dumitrescu, her former high school teacher, said: "She just wants to be famous, her virginity is just a fairy tale."
Proof
Alina's ad said she "needed the money to fund her university education."
But Mr Dumitrescu revealed: "She dropped school after two years in high school. Now she says she wants to raise money to continue her studies.
"I don't think she has been a virgin for quite some time now."
Alina's ad continued: "I don't see anything wrong in what I am doing. Some people may criticise it but this is my own decision, made of my own free will and no one is forcing me to do this. I have thought this through very carefully and know what I am doing.
"I want to meet a gentle, respectful and generous man. I have a gynaecologist's certificate proving I'm a virgin.
"I want the first time I have sex to be special so I wouldn't want it to be a quickie.
"I want it to be something I will remember forever. After all, it is my first time.
"And who knows what may come of it? I'm not ruling out falling in love."
She added: "The man who proves the most generous can stay with me for a full weekend but he has to pay for everything if we travel and stay in a hotel."