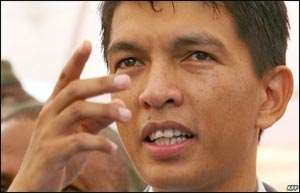 Andry Rajoelina The African Union has suspended Madagascar after the army forced out the president and installed the opposition leader in his place.
Although the handover in Madagascar was not a straightforward military seizure of power, an AU official said it had not been constitutional.
Andry Rajoelina on Thursday suspended parliament and held his first cabinet meeting since taking power.
He is due to be inaugurated at a ceremony in the capital on Saturday.
President Marc Ravalomanana resigned under pressure from a section of the army, which insisted that Mr Rajoelina should take over.
"The council is of the opinion that what occurred in Madagascar enters the definition of unconstitutional change of government," said Burkina Faso's Ambassador Bruno Nongoma Zidouemba, Chairman of the AU's Peace and Security Council.
"The council then decided to suspend the participation of Madagascar to the bodies and organs of the AU."
Sanctions
Madagascar's Constitutional Court has approved the handover of power.
But for the AU, the crucial question was whether Madagascar followed constitutional procedures when a president resigns - these call for the head of parliament's upper house to take over, and for elections within two months.
As this did not happen, they decided it could be considered a coup.
The AU has suspended both Mauritania and Guinea after military takeovers in recent months.
The BBC's Elizabeth Blunt at the AU headquarters in Addis Ababa says Madagascar now has six months to restore constitutional order, or the AU can impose sanctions.
She says these would normally target members of the government.
Mr Rajoelina says he wants to change the constitution, which at present bars the 34-year-old from contesting presidential elections, as he is six years too young.
On Thursday, the Southern African Development Community, to which Madagascar belongs, said constitutional rule should be restored as soon as possible and refused to recognise Mr Rajoelina.
The statement said the 15-member group "condemns in the strongest terms the circumstances that led to the ousting of a democratically-elected president of Madagascar".
America added its voice to the chorus of condemnation on Thursday. BBC
A US state department spokesman said of Madagascar: "We view this as an undemocratic transfer of power."
Mr Rajoelina, a former disc-jockey, has set up two transitional bodies to run the country.
The BBC's Christina Corbett in the capital Antananarivo says he is trying to legitimise himself ahead of his inauguration as transitional leader on Saturday. There is still no word on the whereabouts of Mr Ravalomanana, whose re-election to a second term in 2006 could not save him from being ousted.