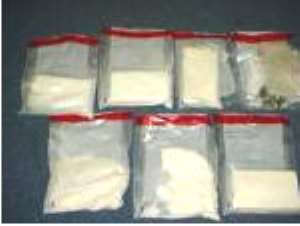 The US State Department says although Ghana's law enforcement authorities continue to arrest low level traffickers of narcotics, they have not put in the same effort in the pursuit of big-time barons.
"Interdiction remains a focus of law enforcement efforts, with less attention going towards arresting senior members of the narcotics rings or to building of cases against local drug barons," it said in its 2009 Report issued by the Bureau of International Narcotics and Law Enforcement Affairs of the State Department last Friday.
The report is the State Department's annual review of foreign governments' efforts at implementing their international obligations under the United Nations drug control conventions and captured Ghana's efforts at combating drug trafficking in 2008.

It cited the failure of the police to identify the brain behind the 399 kilogrammes of cocaine seized at Nsawam which resulted in the arrest of two drivers and noted that "the lack of apparent success in targeting drug barons or even middle-level traffickers may result from a combination of a lack of political will, resources and competency".
"Journalists and members of civil society speculate about connections between narcotics trafficking and politicians. A Ghanaian MP is currently serving a prison term in the US following a 2005 arrest for heroin smuggling," it noted.
It said corruption was pervasive in Ghana's law enforcement community, including sections of the police and the Narcotics Control Board (NACOB), adding that law enforcement officials also attributed the low level of convictions to corruption within the judicial system.
It quoted a study by the Commonwealth Human Rights Initiative which found that corruption in the Ghana Police Service was widespread, with more than 90 per cent of Ghanaians reporting that they had been asked to pay a bribe to a police officer, sometimes before receiving police services, such as submission of an accident report.
The report, which was released by the Assistant Secretary of State for International Narcotics and Law Enforcement Affairs, Ambassador David T. Johnson, said a presidential committee set up by former President J.A. Kufuor to review the Kojo Armah Committee report "has yet to make its report".
It again expressed regret that since 1999 NACOB had proposed amending PNDCL 236, 1990 but the Attorney-General's Department had not acted on the proposal, except to amend the law to allow stricter application bail bond system.
"The NACOB also called for amendment, without success, of PNDC Law 236, 1990, to enable it to confiscate property and assets purchased by identified drug dealers using illegal proceeds of crime," it said.
According to the report, although the government began drafting a Proceeds of Crime Bill, it was yet to send it to Parliament, while a new Money Laundering Act was enacted by Parliament in 2007 but was set to be fully implemented, adding that "a Financial Crimes Intelligence Centre, authorised in the act, has yet to be formed, for example".
It noted the limited co-ordination and intelligence sharing among Ghana's law enforcement agencies and cited cocaine and heroin as the main drugs that transited Ghana.
It said large shipments were often broken up into small amounts to be hidden on individuals travelling by passenger aircraft.
The report said the arrests made in 2008 revealed a variety of creative concealment methods, including cocaine hidden inside specially designed, women's underwear, cans of palm oil and containers of yoghurt and in wheel chairs and bricks of marijuana hidden in false-bottom crates which contained handicrafts bound for Europe.
Last year, the State Department said corruption and lack of resources seriously impeded Ghana's efforts at dealing with the drug menace.
It observed that "Ghana made limited progress in 2007 in addressing its legislative and enforcement deficiencies brought into the public eye by the 2006 narcotics scandals, and a long road lies ahead," it stated.
Reacting to the 2009 report, a former Executive Secretary of NACOB, Mr K.B. Quantson, said the report, although evidently scathing, was not unexpected.
Mr Quantson said the way forward to arrest that humiliating situation was a demonstrable political will to marshal the resources and expertise to redeem our national image.
"This should be the challenge for President John Evans Atta Mills and his government to redeem the country's dented image by narcotics. This is the time for him to implement what he outlined in his manifesto to deal with the drug menace," he added.