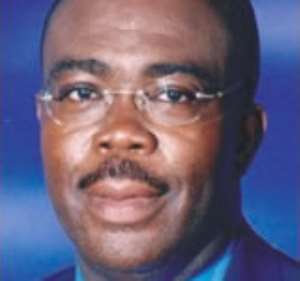 Asamoah-Boateng speaks to Joy FM
Former Information Minister and Member of Parliament for Mfantseman West, Stephen Asamoah-Boateng, says Zita Okaikoi the woman who now sits in his seat may have to "run around like a headless chicken" to be able to do an effective job.
He said with her "young experience," Ms Okaikoi may have to brace herself for more challenges ahead.
"It's not really an easy office; you battle with all your colleagues because you need information from them to be able to explain and understand," he told Joy FM's Stephen Anti.
Ms Okaikoi's nomination by the president was strongly criticised with truckloads of skepticism expressed over her ability to manage her ministry.
Mr Asamoah-Boateng stressed that "with two deputies if he plays his cards right and manages to make them work as a team" she would be able to deliver as expected of her.
"I won't pass judgement on her yet. She's got the chance and I believe she can do it; it is a ministry that is at the heart of any government," Mr Asamoah-Boateng stressed.
Story by Fiifi Koomson
How Zita describes herself
The new Information Minister describes herself as an active, eloquent lawyer on a website she built in the lead to the 2008 parliamentary campaign.

Zita is a young and active Lawyer born in Accra and believes in social democratic ideals as the bedrock on which the national cake and development can be equitably distributed for all Ghanaians devoid of any cronyism, nepotism, discrimination, etc.
Zita attended Archbishop Porter Girls Secondary School, continued to the Kwame Nkrumah University of Science & Technology and came out with Bachelor of Arts [BA] Degree in English and Law.
She then entered the University of Ghana-Legon for her postgraduate studies and read Law and obtained an LLB. She later enrolled at the Ghana School of Law for her professional Qualifying Certificate of Law [QCL].
Zita has worked variously here in Ghana and the United Kingdom with distinction in all spheres.
Zita is eloquent, an excellent listener and a good communicator in the local and English languages. She is highly analytical, a team player and also a team builder and organizer. She is astute with motivated interpersonal skills and works under pressure in any given environment.
Zita is a responsible mother and caring; approachable, accessible and understands the pains of people who are underprivileged due to the effect of harsh economic policies of the NPP that favour only the rich and the upper class in society.
Zita in all humility is for ALL and is reminding voters to examine their living conditions and vote the NPP government out of power in 2008.