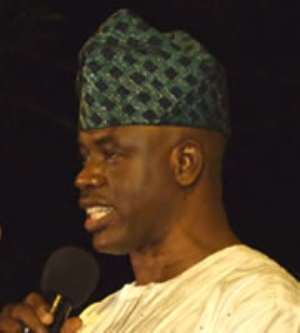 The Nigeria High Commissioner to Ghana, Senator Musiliu Obanikoro has admonished Nigerian students in Ghana to work hard to erase the wrong perception among their host that people of Nigerian origin were arrogant, violent and fraudulent.
The High Commissioner who attributed the soiled image of Nigeria abroad to a few unscrupulous Nigerians therefore challenged the students to work as unofficial ambassadors of the country to help reverse the image of Nigeria particularly as ''419 people'' .
Senator Obanikoro gave the admonition at the University of Mines and Technology (UMaT), Tarkwa when he addressed over 40 Nigerian students pursuing various programmes at UMaT as part of a tour of the Western Region to seek the welfare of Nigerian nationals domiciled in Ghana.
He suggested to the students to institute a platform in Ghana for Nigerian students to meet regularly to share ideas, knowledge and experience as a way of addressing some of the negative perceptions about Nigeria as well as to strengthen the relationship between Ghana and Nigeria.
The High Commissioner told the students that the relationship between Ghana and Nigeria began centuries ago and urged them to reinforce the ties that existed between the two countries by being law abiding.
Senator Obanikoro however commended the students for their disposition and good behavior which had received recognition from UMaT authorities and entreated them to pass on that legacy to other Nigerian students who would enroll in UMaT in future and asked them to focus on how challenges such unemployment, environmental issues, water and power problems confronting Nigeria could be addressed through the knowledge acquired in their education.
Prof Richard Amankwa, Dean of Students of UMaT said the right kind of environment has been provided by the University to enable the students mature into useful adult citizens to help shape the development of their country.
Prof Amankwa lauded the visit of the High Commissioner and described it as a privilege for the University and the Nigerian students and hoped that the visit and subsequent interaction with the students would improve the cordial relations between the two countries.
The High Commissioner later paid a courtesy call on the Vice Chancellor of UMaT, Prof Daniel Mireku-Gyimah
Story by Ben Appiah Kubi