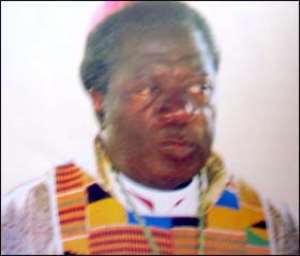 Rev Thomas Kwaku Mensah HIS HOLINESS, Pope Benedict XVI, has bestowed various honourary titles of Monsignor and Knighthood on 29 faithfuls, including three priests and expatriate Reverend Sisters of the Obuasi Diocese of the Catholic Church at a pontifical Mass held at the Saint Thomas' Cathedral in Obuasi.  The honours, which are in recognition of their contributions and dedicated services to the Church and humanity, were jointly performed by the new Apostolic Nuncio to Ghana, Most Rev. Leon B. Kallenga and His Grace Thomas Kwaku Mensah of the Kumasi Catholic Archdiocese.
Among the recipients of the Papal awards were Reverend Fathers Lawrence Owusu Afriyie, Francis Osei Nyarko and Matthew Tuffour-Amoah, Opanin Kwame Kankam, Angelina Korkor Barkson and Paul Victor Obeng, Chairman of the NDC government transitional team.
The rest are Rev. Sisters Angela Kyeraa Manu, Mary Owusu Frimpong, Mary Paulina Prah, Jessy Kanatte Malia Kavithe Katala, Ageles Oroquita Villar and Anne Courtney among others, who received a Bene Merenti award.
The three priests were promoted to the position of Monsignor, while P. V. Obeng was honoured with the Papal Knighthood of St. Gregory the Great Award, which is the greatest of the Knight awards, for his exceptional contributions both in cash and kind to the growth of the Obuasi Diocese since its creation 14 years ago.
By this installation of the Priests, they have become the spiritual Chaplains of the Pope.
58 year-old Joseph Afoakwa and educationist Edward Kojo Bimpong received the Papal knighthood of Saint Sylvester, as Stephen Atakora and nine others received the Pro Ecclesia Pontific award.
Chancellors of the Cathedral, Very Reverend Father Godfred Appiah, disclosed that the local church recommended the recipients to the Diocesan Bishop in the person of Most. Rev. Gabriel Justice Anokye, who in turn recommended to the Vatican for the consideration of the Papal awards in recognition of their dedicated services and contributions.
He explained that the conferral of the honours was meant to inspire other faithfuls to give off their best at any giving time, since their rewards can also be on earth.
In a sermon, Most Rev. Thomas Mensah called on the recipients not to rest on their oars, but keep on striving in rendering a helping hand to the Lord's vineyard.
From Ernest Kofi Adu, Obuasi