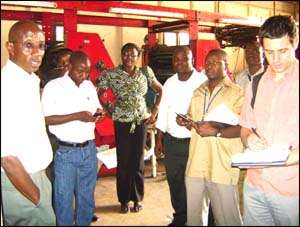 WASHCost Visits Daily Guide THE NON-GOVERNMENTAL Organization, WASHCost, made up of a nine-member delegation paid a courtesy call to the offices of Daily Guide, Ghana's most widely circulated private newspaper on Tuesday.
They included the Project Assistant of WASHCost, Michele Adjei-Fah, Janet Alamisi Dabire, a Ghanaian journalist, Martine Sawadogo, Herve Tiendrebeogo, Jules Sow and Pascal Dabou all from Burkina Faso.
Others were, Ewen Le Borge, Netherlands, Egidio Vaz, Mozambique and Abu Wumbei, Ghana.
The visit was part of a familiarization tour to abreast themselves of the Ghanaian style of newspaper publication business, especially those in private hands and also to delve into how DAILY GUIDE gets its incredible news items.
The Chief News Editor of the paper, A.R. Gomda took them round the facility to explain how things are done in the media set up.
WASHCost is a five-year environmental project, which is aimed at researching into the life-cycle costs of water, sanitation, as well as hygiene.
Its services permeate through rural and peri-urban areas in Ghana, Burkina Faso, Mozambique and India.
The rationale behind its establishment is to improve at all levels, as decision makers and stakeholders analyse the costs of sustainable, equitable with efficient services. By Nathiel Y. Yankson