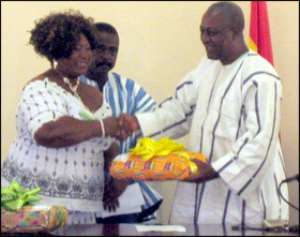 Mercy presenting a gift to Mr Mahama MEMBERS OF the Greater Accra Market Women Association have appealed to the Government to immediately dismiss Stanley Nii Adjiri-Blankson, the Mayor of Accra, for non-performance.
The group, in a petition to the Vice President, John Dramani Mahama at the Osu Castle, stated that the presence of Mr. Adjiri-Blankson was inimical to the aspirations of the government as he was allegedly taking the concerns of the women for granted.
The women accused the Accra Mayor of playing politics with the lives of the people by allowing some traders to take over some of the streets in the central business district thereby creating more traffic in Accra.
Madam Asafoanye Agbedae, acting president of the association, said even though the markets in Accra continue to generate the needed revenue for the Accra Metropolitan Assembly (AMA), the assembly had persistently denied them basic services in the markets.
According to her, AMA officials have been collecting tolls and other taxes from the traders but there had not been any corresponding attention from the assembly.
She accused the AMA of refusing to provide them with electricity, water, warehouse and toilet facilities.
The women contended that the AMA generates greater part of its revenue from the market tolls, sale of tickets and other charges and alleged that some of the assembly staff sell fake tickets to the market women and pocket the money.
They therefore called for investigation into ticket racketeering and fraud in the markets.
The women further alleged that most of the lorry parks have been privatized by the AMA and sold out to the officials themselves or their cronies.
Further allegations were made against the AMA such as the use of private security personnel to guard the markets and the warehouses only for them to turn around and steal from the women.
They complained that whenever it rains conditions in the markets go so bad that they do not have any alternative way of surviving in the market.
They appealed to the Vice President to sack the current Mayor and appoint someone who could handle the situation at the market tactfully.
Receiving the petition, Vice President Mahama acknowledged the contributions of the markets to the economy of the assemblies as one of the highest revenue generators.
He said it was travesty of justice for the people who contribute so much to the assemblies to be left at the mercy of the weather.
Vice President Mahama promised to forward their petition to the President for action to be taken.
He, however, appealed to the women to exercise restraint and go about their duties diligently while they await the action of the President.
The Vice President commended them for working hard to provide for their children and the nation at large.
The women later presented some gifts to President John Evans Atta Mills and the Vice President.
By Wisdom Peter Awuku