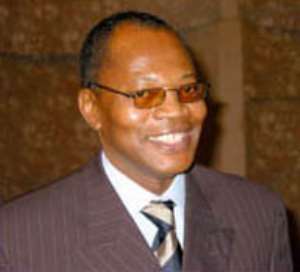 Last year's food crisis and the current global financial downturn should be enough motivation for Africa to quicken the pace of building its own infrastructure and other key resources in order to wean itself off aid, ECOWAS president Mohamed Ibn Chambas has said.

"We don't need any more excuses. The crisis should teach us enough lessons that it is time to wake up," he reiterated.

Dr Chambas who was addressing an ECOWAS Business Forum in Ouagadougou, Burkina Faso, said Africa economies should also begin pursuing partnerships with emerging economies such as China, Brazil and India as part of building new external markets.

"We have oil and gas in this region. We have rivers, many of which have energy potentials," he enumerated and wondered why the region, which serves as a source of uranium supply to some countries abroad, should itself be living in darkness.

Dr Chambas said the crisis showed the unsustainability of the policy of ignoring the development of local agriculture in favour of imports and provides a unique opportunity to re-launch West African agriculture as a business for sustainability.

"We have no business complaining about food crisis when we have well-endowed land and other natural resources to tap for the development of our people."

Another priority, he said, should be the pooling of resources to support the private sector to develop a dynamic capital market, capable of promoting critical investments in the region.

The forum, the second after the maiden event in Accra, brought together about 400 people, mostly from the private sector. It provided the platform for ECOWAS to build synergy among the private sector and involve them more intensively in the integration process.

Participants would brainstorm and draw an action plan on how to build effective partnerships to grow a robust economy.

Ghana's delegation to the forum included Mr Edward Boateng, Executive Secretary of the Ghana Export Promotions Council, Mr Wilson Atta Krofa and Salathiel Doe Amegavie, president and chief executive, respectively, of the Ghana National Chamber of Commerce, Mr Cletus Korsiba, acting Executive Director of the Association of Ghana Industries, and Mr Kwesi Abeasi, an investment consultant.

They presented various challenges such as high interest charges on loans signed by Small and Medium-sized Enterprises and advocated for special transactions to help propel trade and growth.

Dr Chambas said in 2009, ECOWAS will pursue policies and programmes to foster integration process adding that key areas of focus will be to harness resources for building a regional energy infrastructure and reliable transport services to address the "embarrassing" challenges hindering the free movement of people.

"Travelling within our region to do legitimate business remains a nightmare, despite our commitment to the integration process," he said, recalling unpleasant stories told by small scale business people and traders who suffer unbearable delays at the borders.

Commenting on trade with Europe, Dr Chambas said ECOWAS would proceed with the stalled negotiations on the Economic Partnerships Agreement this year.

"We are proceeding with the negotiations this year but again for us in West Africa, whatever we will be doing will be in the interest of our people. We'll defend the interest of the region."

While Dr Chambas acknowledged that a functioning Customs union was a requirement within the framework of the negotiation of the EPA, it was also necessary for the realisation of the region's integration agenda.
Story by Kwasi Kpodo, GNA, Ouagadougou.