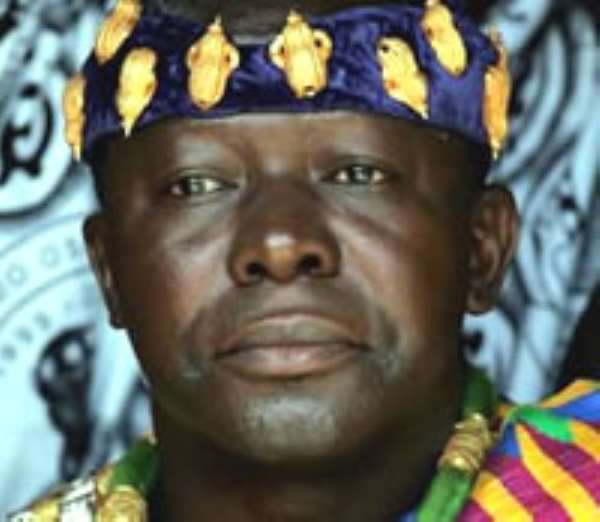 In Ghana today, the truth and fair opinion are becoming as bitter and poisonous as the hemlock that killed Socrates. One does not give an opinion without being tagged as a pro or anti-so so and so. Before I begin let me first acknowledge the fact that I do not bear any ill-will against the Asantehene, Otumfuo Osei Tutu. Neither do I have anything against Asanteman.
In fact the Asantehene is one of the traditional rulers I admire most and never miss an opportunity to cite him as a wise ruler. When he last year banned the use of academic titles by chiefs within his kingdom I wrote a radio news commentary praising him for that bold decision meant to stop the chieftaincy institution from being adulterated further. Chiefs in Ghana are known by the titles of their kingdoms with the stool name. Their real names are never mentioned and since their stool names and stool titles do not have academic titles, the "Prof., Dr. and other academic titles should be reserved for their real names, so I argued. In the said commentary, which was aired by the national radio on 29th May 2008, I urged other traditional rulers to emulate the good works of the Asantehene, Otumfuo Osei Tutu; the Okyenhene, Osagyefo Amoatia Ofori-Panyin; and the Agbogbomefia of the Asogli State, Togbe Afede XIV. This article is therefore not meant to attack any kingdom or ethnic group but to draw the attention of a dangerous tendency to look down on some ethnic groups in the country as become the practice lately.
When the Ashanti Regional Minister-designate, Mr. Kofi Opoku Manu, appeared before the Ministerial Appointments Committee of Parliament, a member of the panel asked him, "Who is Otumfuo?"
"Otumfuo is a chief, a Super chief," came his first answer. He then went ahead to say that Otumfuo "is more than a chief. Indeed, he is a King, comparable to the Kabaka of Uganda." He was still trying to find a better word to describe the Asantehene when a member of the panel told him that the "Super Chief" description was enough.
A Super Chief? Yes, a Super Chief! And are the other chiefs in Ghana Otumfuo's sub-chiefs? All traditional rulers in Ghana, no matter how big their kingdoms are, do not have power over other paramount chiefs in other kingdoms. To state that a chief is not just a chief but a super chief suggests that the ethnic group over which that chief lords is a "Super Ethnic Group." This is how the regional minister designate fell into the trap and exposed how ethnocentric he is to the whole world. He is to head the second most important region in the country with ethnic diversity and his disdain towards minority ethnic groups in the Ashanti Region is not hidden at all.
Early on, the minister-designate was asked how he was going to deal with the ritual anticipated rift District Chief Executives and many NPP Members of Parliament (MPs); he said he would call on the NPP MPs in the region to cooperate with the DCEs. He was happy that many of the MPs at the vetting were from the Ashanti Region so he added, "When it comes to politics, Ashantis are always at the forefront." Mr. Kofi Opoku Manu's attitude confirmed the perceived ethnocentric tendencies of some Ashantis and I was shocked no member of the vetting committee drew his attention to that.
There is no justification of the fact that Ashantis are at the forefront in politics in the country, despite the fact that region has the biggest number of constituencies. There are indeed very powerful legislators and politicians from the three northern regions, the Volta, Central, Western and other regions, who have defined and continue to define the politics of this nation.
A lot was said about the polarization of this country in the 2008 elections. Unfortunately, much of the blame was heaped on Ewes and the entire people of the Volta Region. Any time tribal politics came up in a discussion, one name was very predictable. Ewes! Ewes and the Volta Region received and continue to receive a barrage of bombardments of all manner of insults and demonization for their perceived tribalistic voting pattern. Interestingly, there seem to be nothing wrong with the voting pattern in Ashanti, which was not different from that of the Volta Region. This trend did not begin in the 2008 elections, but Voltarians, who are naturally quiet and reserved, have had to endure this unfair treatment. There was, however, no Ewe in the NDC duo who won the elections.
The growing inter-ethnic suspicion and jaundiced perceptions are not good for the unity of our country. If President Atta-Mills is indeed committed to his promise of being the president for all, then ethnocentric ministers such as the Ashanti Regional Minister-designate, is not a good material to carry out that agenda.
Ethnic prejudices and ethnocentrism are not going to unite us. And all the ethnic groups are guilty of this. My personal experiences on how people carelessly handle the fragile subject of ethnicity are very disheartening.
I hail from Bongo in the Upper East Region but because I grew up in the Volta Region, I can speak Ewe. A very respectable woman who was surprised to hear me speak her native language asked me how I got to understand the language. When I told her that I grew up in the Volta Region, she replied, "That is why your behaviour is not like them." This is the worst insult I have received in all my life.
In November last year, while watching the IEA Vice-Presidential debate on television, a young man remarked that Dr. Mahamudu Bawumia and John Mahama were very handsome. What came out of the second person's mouth was that, "If no one tells you that they are northerners, you will never think they are from the north." How are northerners?
Even though there are about thirty-three languages in the three northern regions, any person from the northern part of the country, is often referred to as Pepeni, Ntani, Sremuni or Yaanom. All of these names have attained negative connotation and despite their very offensive nature (especially the last one) they are used on Akan-speaking radio stations.
A person from Upper East staying in the Northern Region is considered a stranger and must earn a name by the indigenes. Every ethnic group has its own perceptions and suspicions about others and in some instances, marriages are stopped on ethnic grounds. Even Ashantis and other Akans who are the majority suffer this unfortunate ethnic stigma. This must change and for all minority ethnic groups to feel integrated into the nation-state of Ghana, all acts and tendencies of ethnocentrism must be curtailed especially among those in authority and public office holders.
No one doubts that the Asantehene is a powerful chief. This is as a result of the large size of his jurisdiction and the fact that he lords over a region with many resources and for that matter, heavy royalties. This does not, however, make Otumfuo a super chief in Ghana. We have no super ethnic groups and the likes of Mr. Kofi Opoku Manu should be mindful of their utterances. What then will the minority ethnic groups and the many traditional rulers make of that declaration?
Asantehene should also endeavour to educate his subjects to see themselves as Ghanaians and not super-Ghanaians. Otumfuo is decent chief but his subjects have often dragged his name in the mud due to proud, arrogant and ethnocentric subjects' unbridled utterances. There are humble Ashantis, as there are in every other ethnic group. It is good for everyone to be proud of their heritage but in so doing, they should not look down on others.
Let us respect each other's views and see ourselves as one big family called Ghana. Anytime the national team wins a major game and Ghanaians pour onto the streets to jubilate, we do that as one happy people. The uncontrollable joy does not stem from the beauty of the game but the bond of identity that we carry as Ghanaians. In the words of Chinua Achebe, a hostile clansman is brother in a foreign land. Any two Ghanaians who meet in a foreign country automatically become brothers or sisters irrespective of the relationship between their ethnic groups back at home. Why can't we do that at home and live together as a nation?
It is therefore necessary to condemn all forms of ethnocentric attitudes and unnecessary suspicions. The bottom-line is that we are all Ghanaians and despite our differences, we are one people with a destiny bond together by one national identity. Ethnic clashes have ruined countries like Rwanda and Nigeria and our elders say a wise person does not run to the funeral of a man who died by stumbling over a stone.
Asantehene is not a super chief. We have no super ethnic group or sub ethnic group. We are all Ghanaians and are equal. Let us see ourselves as such and live together happily as Ghanaians. When given the nod, Mr. Kofi Opoku Manu should know that he is not there to please the NDC or Asanteman, but to serve the interest of all Ghanaians.
May God Bless Our Homeland Ghana!
Credit: Manasseh Azure Awuni [email: [email protected]]
The writer is a Level 300 student of the Ghana Institute of Journalism, Accra.