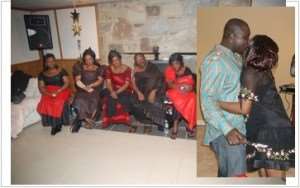 Not only was their son murdered, his body is cremated before they get to perform the traditional funeral rites

Seth Aidoo had just turned 40 and his girlfriend Eunice, 36 and three months pregnant. As friends and family gathered to throw him a surprise party, little did they know that they would soon be witnesses to an irreversible chain of sorrow. On the morning of January 14, 2009 a few days after their party, they were found dead. Eunice shot to death and Seth stabbed multiple times in the upper body.

Last week, before the family could make arrangements for the traditional funeral ceremony, Seth's body was cremated by his African American wife of twelve years, Sheila Aidoo. Their divorce was set to be final on February 9, 2009 in Maryland, USA.
To his friends, Seth was the most amiable and dedicated person they knew. He kept to himself, hardly went out and was very dedicated to his job as the director of Management Information Systems with the Health Industry Distributors Association (HIDA) in Virginia.

With his future looming in front of him, Seth was enrolled in an advanced college studying for his law examinations and looking forward to his new baby with Eunice. The chain of events following the party at his plush Upper Marlboro home is a sad tale to say the least. Recently an orphan, (his father died when he was barely a year old and he lost his mother early last year) Seth's only family was his daughter Lauren (not Sheila's child) and his soon to be ex-wife Sheila and of course Eunice. His marriage to Sheila had gone through its rocky times and the couple had agreed to go separate ways, with new partners. They did not have any children between them.

Sheila Aidoo owns and runs a day care center in Bowie, Maryland (PG County) called Bundles of Joy Day Care Center. With between 15 and 20 kids in the Day Care, it is known to be rather successful, gaining recognition from Maryland State, which awarded her day care center 2 generous grants in 2008.

Friends say when Sheila's brother was released from jail recently, Seth offered him a roof in his house where his own sister did not feel comfortable to do so. Just before his murder, this had been the case, until a fall out of sorts and Seth asked him to leave his home. Apparently some tension developed between them and Seth felt compelled to change all the locks on the house for his own safety and that of his pregnant girlfriend.

As friends gathered to celebrate his fortieth birthday, news filtered back to his wife Sheila, who, it is alleged, heard of Eunice for the first time.

The break into the home was forced, according to PG county police spokesman corporal Clinton Copeland. The gated community where Seth lived had surveillance cameras and a call box at the entrance and police say they do have "persons of interest" in the case, which they are still investigating.

But before they could get over the shock of the murder and come to terms with the death of their son, Seth's body was released to Sheila, in accordance with Maryland state laws and kept at Marshall's funeral home in Rockville. With all communication cut off by Sheila, the family learnt on Saturday January 24 that his body had been cremated.

All calls to get a comment from Sheila were not returned. County documents show that a sizeable life policy exists on husband and spouse.