Religious Leaders Champion Reconciliation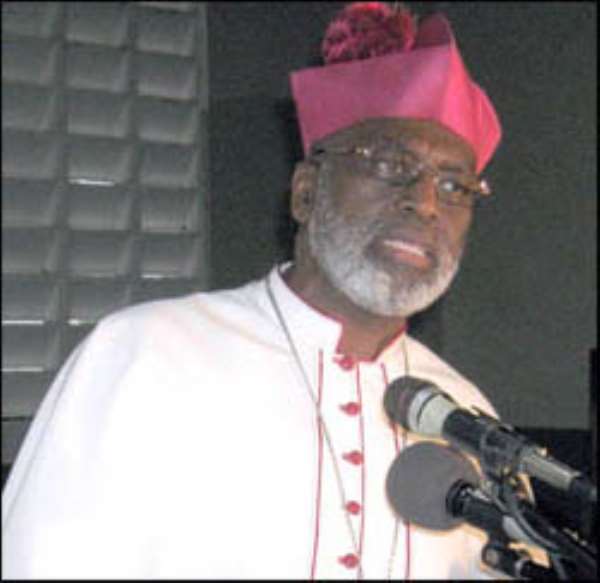 Archbishop Charles Gabriel Palmer-Buckle Archbishop Charles Gabriel Palmer-Buckle, Spokesperson of the Forum of Religious Leaders, announced on Friday that  the two Presidential Candidates who contested the run-off elections have expressed interest in dialogue.
He said Peter Cardinal Appiah-Turkson, Chairman of the Peace Council, was facilitating a meeting between Professor John Evans Atta-Mills, candidate of the National Democratic Congress (NDC) and Nana Addo Dankwa Akufo-Addo of the New Patriotic Party (NPP).
At a joint press conference held by the Forum for Religious Leaders and the Civic Forum Initiative, he stressed that the two leaders "have expressed interest in dialoguing and working to preserve and enhance the unity of Ghana and its prosperity".
Archbishop Palmer-Buckle read the statement on behalf of Cardinal Appiah-Turkson.
He said so far there had been several meetings between the Forum of Religious Leaders and the high ranking members of the two parties and they had at least two meetings on separate occasions where the presidential candidates of both parties were present with the objective of restoring conditions for a peaceful way out of the emerging crisis.
Archbishop Palmer-Buckle noted that at no time in Ghana's post-independence history had the national unity been pushed to the limit and put under enormous strains.
"The results of both the presidential and parliamentary election have clearly shown that Ghana, our motherland, is deeply split by partisan political passion," he said.
He pointed out that if the dangerous trend should continue, it could destroy Ghana's rich tradition of peace and national cohesion which are admired throughout the world.
"We must never allow this great tradition to be sacrificed for any political purpose whatsoever."
The Archbishop was of the view that God was leading the country into a national cohesion, multi-ethnic cohesion and unity, and urged Ghanaians to work at it.
He appealed to all Ghanaians to allow the Electoral Commission time and space needed to complete its work professionally, and advised that there was the need to respect institutions set up by the constitution and desist from allowing emotions to direct the institutions.
This, he noted, would enable Ghana to regain its multi-ethnic cohesion and national strength within the democratic governance system that the nation had adopted under the 1992 Constitution.
He urged all, especially the youth, to avoid the temptation of taking the law into their hands, saying, "No individual or group can win anything lasting using violence; we will all lose if we allow violence to overcome our collective reasoning."
The Right Rev. Dr Aboagye-Mensah, Presiding Bishop of the Methodist Church of Ghana, said some of the FM stations were not being helpful by reporting rumours, and appealed to them to act professionally.
GNA