Come again Mr. Big Promises (Nana Akufo-Addo)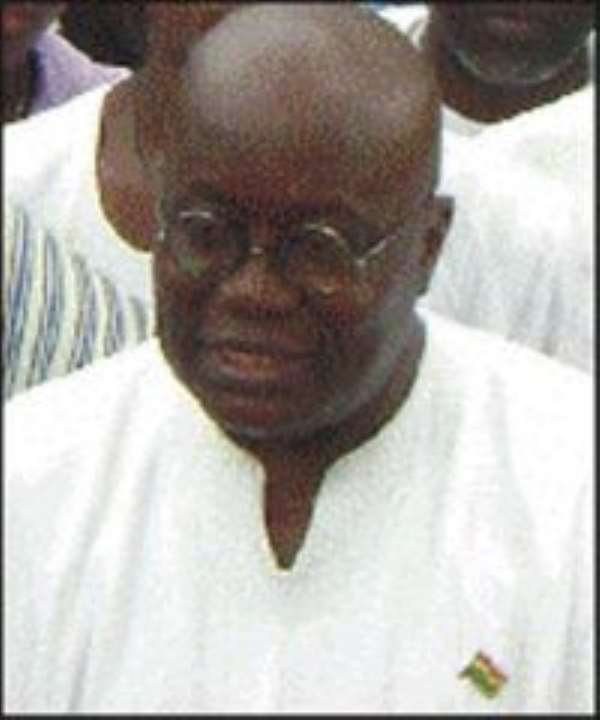 Nana Akufo-Addo
"I will turn the Northern Region into Mecca". "I will Turn Ghana into a First World Country". "I will provide free education to Ghanaians up to the University". These are some of the big promises that Nana Akufo-Addo has been making during his campaign stops just to convince Ghanaians that he is the real deal. Talk, they say is cheap so he keeps spewing these words without anybody holding it against him. I was looking for him to say "I will sleep under the same roof with Ghanaians when I win the elections", but it never happened.
I am a little concerned about what Akufo-Addo goes around saying. It is no secret that this man is so desperate to become president that he will say anything to get elected. The talk on the streets of Accra is that if Akufo-Addo does not win, his whole world would collapse. Akufo-Addo thinks his time has come. Yes, he thinks Ghana was made for him.
What he has forgotten is that some people are born leaders, others are just made leaders. To me Akufo-Addo is not a born leader otherwise it would not take him years to become the party's flag bearer by default. (Remember the strange tactics used by Akufo-Addo's cronies to push Kyeremanteng aside during the NPP's Convention?).
Since he was not a born leader instead of waiting to be made a leader, Akufo-Addo wants to make himself a leader hence his decision to make big unimaginable promises that he cannot fulfill if elected. He thinks Ghanaians would buy anything he says without questioning the motive behind those words.
Now I have some few questions for Akufo-Addo. It is good that he wants to turn Ghana into a First World Country if he wins the up coming run-off. But was Akufo-Addo not in the Kufuor administration from day one until he resigned last year to contest for the presidential elections? If Akufo-Addo knows how to turn Ghana into a First World Country, should he not have shown President Kufuor how to even turn Ghana into a Second World Country?
I strongly believe that if Akufo-Addo has shown or helped President Kufuor in turning Ghana into a Second World Country, this election would have been a forgone conclusion. The point is that he does not have any plans. If he had plans he would have offered it to the NPP and they would be in this deep hole they find themselves today.
My second question is, why wait until he becomes president before turning the Northern Region into Mecca? Does it mean the Northern Region is still a back case after the NPP has been in power for 8 years with a northerner as the second-in-command? Does it mean President Kufuor was waiting for him to do his job for him as far as the Northern Region is concerned? As a minister of the Kufuor's government did Akufo-Addo not see that the Northern Region has been neglected by his party? Did he offer any advice which was not taken? I doubt he did.
I guess that is the reason why the Northerner's were so angered when the NPP Vice-Presidential candidate Bamumia tried to campaign in the north. No doubt the NPP lost woefully in the Northern, Upper East and Upper West Regions.
My final question to Akufo-Addo is what is the educational standard in Ghana today? Is it better than when he was in school some decades ago or worse? Did he offer any advice on how to improve the educational standards to the Kufuor administration and he was rebuffed?
Nana Akufo-Addo may have some ideas but these ideas look shaky and at best can be considered as a ploy just to win votes. If for 8 years he could not help his own party to put in place some of these ideas that he is propagating, then Akufo-Addo has no business running Ghana.
These are empty promises to bamboozle the electorates; therefore, Ghanaians should be on the look out. "Agoro beso efi anopa". If NPP has something good to offer Ghanaians, they had 8 long years to accomplish them, but they failed. They did a couple of things which are laudable, but the same yardstick they used in measuring some of the accomplishments of the NDC is being used to measure their own today. I remember when in 2000 Professor Mills was telling Ghanaians about some of the roads and electrification projects that the NDC had done, the NPP gurus kept asking, "Are people going to eat electricity and roads".
Now I am asking the NPP the same question. Are people going to eat the Presidential Palace, roads and other projects they have done? In economic terms, the real measure of how the economic policies have reflected on a country is largely based on the purchasing power of the people. If the NPP people do not know, I want to tell them that their economic policies have not reflected positively in the pockets of the ordinary people on the streets in Ghana. And these are the same ordinary people they are looking up to them to vote for them come December 28, 2008. Mr. Big Promises, what next?
By Ekua Kwansema [[email protected]]