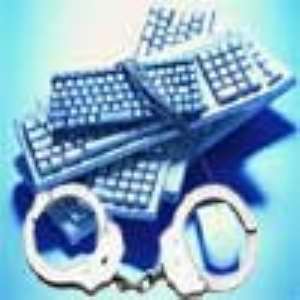 A mother and her son have appeared before an Accra Circuit Court for cyber fraud.
Abdul Rahim Issah, aka Sarah Morrison, a student and Reliatu Mohammed, a seamstress, are said to have used the internet to defraud a 61 year-old American of 4,920 dollars under the pretext of marrying him (Issah) but failed to do so.
Issah who pretended to be a woman is being held for conspiracy, defrauding by false pretences and impersonation while Reliatu is being held for abetment of crime.
They have pleaded not guilty and refunded 1,000 dollars to the Police.
The court has remanded them into police custody to re-appear on December 9.
One Kamal, an accomplice, is at large.
Deputy Superintendent of Police (DSP) Paul Kissi Frimpong said the complainant, Robert Reece Bruce, resides in the United States of America while accused persons reside in Accra.
DSP Frimpong said last September, Issah posted his profile on a dating website known as "True.com" and posed as Sarah Morrison, a Ghanaian lady aged 32, and dated the complainant.
In addition, the prosecution said, Issah imitated the voice a female whenever he talked to him on the phone.
According to the prosecutor several communications ensued between them as lovers culminating in a marriage proposal.
Subsequently, Issah demanded and collected 800 dollars to prepare document of their marriage under Ghanaian ordinance.
Issah further collected 500 dollars and 120 dollars from the complainant to pay his sick mother (Reliatu's) hospital expenses.
The prosecution said Issah later informed the complainant of a supposed 75 kilos gold business in Ghana and subsequently introduced Kamal to the complainant as a "Barrister at law" whose assistance could be solicited.
The prosecutor said Issah claimed that Kamal therefore prepared a "Transfer of Ownership Agreement Form" purported to have been signed by the Chief Justice, Mrs Theodora Georgina Wood and by that succeeded in collecting 3,500 dollars from the complainant.
The prosecution said Kamal gave Issah 500 dollars as his share.
On October 4, this year, Mr Bruce, the complainant, who became suspicious lodged a complaint with the police through the office of the Judicial Service.
A controlled delivery, which bore the name and address of Issah, was arranged and on October 31, when he and Relaitu appeared to receive the package at FedEx offices from their victim they were picked up. Several attempts to trace Kamal had been abortive, the prosecution said.