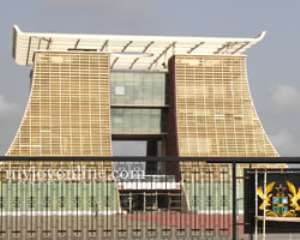 The Golden Jubilee House
The new presidential complex in Accra to serve as the seat of government and official residence of President of Ghana, has been christened the Golden Jubilee House.
President John Agyekum Kufuor who performed the official commissioning a while ago, attended by a cross section of Ghanaians – ministers and parliamentarians, chiefs and civil servants as well as ordinary folks – announced the new name to spontaneous applause from the gathering.
He was presented with a replica of the key to the new edifice, which he described as the symbol of authority and spirituality of Ghana. It is also a symbol of the friendship between Ghana and India, whose government provided a soft loan and expertise for its construction.
The complex also houses the official residence of Ghana's first President, Osagyefo Dr. Kwame Nkrumah, whose two children, Sekou and Samia Nkrumah, were called to join President Kufuor to cut the tape and join in the consecration of the place.
In his address President Kufuor lamented the use of the Osu Castle as the seat of government.
"It must not be forgotten that the Osu Castle has not fulfilled and can never provide such a centre because it was physically and historically a purpose built as a slaving out post and indeed in many parts continues to bare the indelible scars and stigma of that inhuman trade of those times."
He dismissed criticisms that the building of the Golden Jubilee House was ill timed and did not take into consideration the plight of Ghanaians, insisting the building was not at the expense of the needs of society.
"Government has at every stage of this project been sensitive to the financial implications of the venture and also the conditions of life of the society. At no time has government overlooked the suffering and needs of society as critics sought to claim," he added.
President Kufuor described the offer from the Indian government as "irresistible offer, God sent for Ghana" and hoped relationship between the two countries would move to higher heights"
The Arch bishop of Cape Coast Cardinal Peter Appiah Turkson conducted a short consecration ceremony after which dignitaries were sent round the edifice.
Story by Isaac Yeboah and Nathan Gadugah