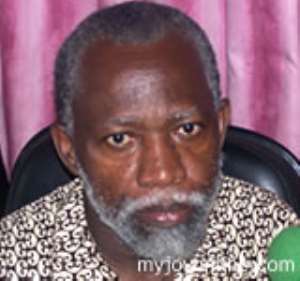 Listen to Prof Adei in the attached audio
The outgoing Rector of the Ghana Institute of Management and Public Administration, GIMPA, Prof. Stephen Adei says he feels vindicated by a court ruling that he qualifies to hold himself as a professor.
The Fast Track High Court in Accra presided by Justice Victor Ofoe, last Thursday dismissed an application by the Editor of the Ghanaian Observer newspaper, Egbert Faible, seeking the court's order to restrain the rector as a professor.
In his first public reaction on the decision on arrival from the United States, Prof Stephen Adei said the past 15 months when the court processes began on the dispute have been very challenging for him.
He told Joy News' George Wiafe that even though he knew Egbert was wrong and as the court also decided, that he had no locus to initiate the matter in the first place, it was very painful he had to keep quiet all that while.
"I was determined that I would not allow myself to be distracted from the work of leading GIMPA but it was painful where one had to keep quiet when he knew that he was innocent… And I know that some of you in the media were wondering why I was not talking and I thought that in such times one has to exercise restraint and caution and maturity. I believed that in the end the truth would come without my intervening."
Prof. Adei said he had no personal case against is accuser and wondered what his motivation was, admitting however that he may have stepped on toes in his style of administering GIMPA, however, there was no way to achieve the sort of results he had if he went about his work "the same way as we run our normal institutions in Ghana."
(Listen to Prof. Adei and George Wiafe in the attached audio.)