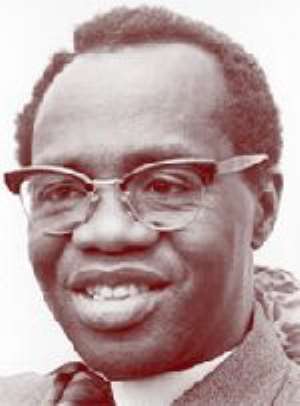 Four former Heads of State — Dr Kwame Nkrumah, General A.A. Afrifa, General I.K. Acheampong and General F.W.K. Akuffo — are among a list of 137 individuals who are beneficiaries of the government's assets deconfiscation policy.
According to a release signed by a Deputy Attorney-General and Minister of Justice, Mr Kwame Osei-Prempeh, and released yesterday, the President had, in the interest of national reconciliation, decided to release the assets of the 137 whose assets were confiscated by various military regimes.
They or their representatives were to have access to their properties, wherever they were in the country, by the end of this year, the release indicated, and asked beneficiaries or their representatives to contact Room 14 at the Attorney- General's Department or call 021-682530 for details.
It said the President, upon the recommendations of the Confiscated Assets Committee, the Restoration of Assets Committee and the Attorney-General and in the spirit of national reconciliation, deconfiscated the assets to their original owners.
According to the release, the return of the assets would be on a "where is, as is basis", meaning that beneficiaries were expected to take them in which ever condition they might find them.
"In cases where deconfiscation is not possible because of peculiar circumstances, compensation may be paid," the release pointed out.
The other beneficiaries include Krobo Edusei, 13 houses in Accra, Tema and the Ashanti Region; Dr Matthew N. Tetteh, who owns a chain of 34 houses, including storey buildings at Dansoman Exhibition Site, Adenta Housing Estates, Tema and other parts of Accra; J.K. Siaw, eight houses in Accra; Dr E. Ayeh Kumi, 13 houses in Takoradi and Accra; K. N. Owusu of Kowus Motors, four properties; Col C. R. Techie-Menson, six houses in Accra; Moses Tweneboah Kodua, six houses in Accra and the Ashanti Region.
Other beneficiaries who own one or more houses include A. E. Inkumsah, General Robert Kotei, Squadron Leader George Tagoe, S.K. Kpegah, E.A. Amoah, who is the owner of Association International School, Commander J.C. Addo, Major Kwame Asante, Col E.O. Nyanteh, Alhaji Tiello Buccom, Ghazi Dakmak, Group Captain K.A. Jackson, Commander J. D. Boham, F.K. Dra Goka, among many others.
Popular deconfiscated assets include the Frafraha Prison Farms, Association International School, Caprice Hotel and Casino, Kowus Motors, the assets of the Ghana Co-operative Marketing Association, some properties at the Airport Residential Area, Cantonments, Roman Ridge, Ringway Estates, Awudome Estates, North Labone, Tema, Osamkrom Prison Farms and other parts of the country.
Under the deconfiscation process, beneficiaries will be asked to provide some basic information, such as proof of identity, letters of administration or will, in the instance where the original owners are dead.
Story by Mabel Aku Baneseh