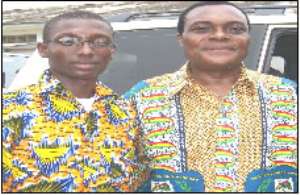 His Awardship Kobla Asamani & His Awardship Major Courage E. K. Quashigah (Rtd.) in the Pic.
The Chairman of the Board of Governors and the Vice Patron of the Country Awards Council - Ghana (CACG), His Awardship Major Courage E. K. Quashigah (Rtd.) has said that, the Youth are a major might at the forefront of economic, political and socio – cultural development worldwide. Additionally, their intellectual perspectives and future of societies are key determinants of the progress and national development.
In view of this, their principal role in nation building cannot be underestimated and in recognition of these efforts espoused by the youth, Ghana Youth Awards has been designed to celebrate, recognise and honour our youthful achievers the Minister emphasized.
The Health Minister has also cautioned the youth to practice healthy lifestyle in order to attain greater heights.
The Country Director of the CACG, His Awardship Kobla Asamani also underscored that Ghana Youth Awards is one of the many Awards under the Ghana National Honorary Awards of Fame, an Agency of the Country Awards Council - Ghana.
He said Ghana Youth Awards cut across all spheres of our national developmental agenda and listed the categories as Youth Rights, Youth in Law, Health, Music, Art and Culture. Others include Youth Creativity, Youth in Advocacy, ICT, National Service, Mentoring and Community Development. The rest are Youth in Research, Entrepreneurship, Volunteerism, Environmental Activities and Leadership.
The Country Director of CACG added that the maiden edition of the Ghana Youth Awards will be held in December this year and is under the auspices of the National Youth Council.
The Awards Council therefore invites all youthful achievers to pick up their application form at any National Youth Council and GBC Offices across the Country, the International Press Centre and some Radio Stations in Accra.
Closing date for submission of application form is Wednesday 5th November, 2008.