CJ Calls For Better Salaries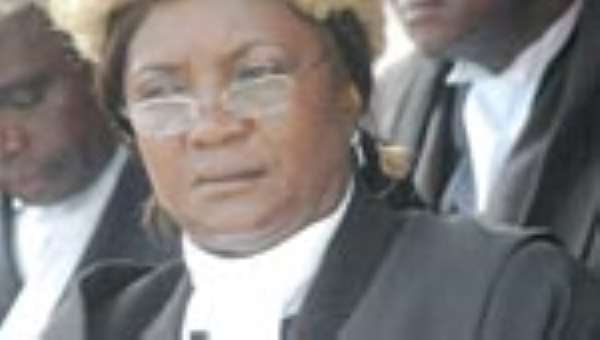 HER LADYSHIP, Chief Justice Georgina Theodora Wood has called on government to structure better remunerations for judiciary workers.
Low remuneration in the judiciary, she observed, leads to low standard of professional competence and performance in the administration of justice.
According to the CJ, who was addressing delegates at the USAID Democracy and Governance Training Programme dubbed "Anti-Corruption and Good Governance" in Accra on Thursday, stressed that the remuneration of judges had a critical role to play in judicial accountability.
She averred that an under-funded and poorly resourced judiciary was unlikely to attract high calibre persons to the bench or retain them.
She indicated that well-paid judges would do everything in their power to retain their privileged status to ensure that justice prevailed under all circumstances.
Justice Wood, who was speaking on the theme, "How Judicial Integrity Measures Can Improve Gaps in the Administration of Justice", noted that due to low remuneration in some countries judges had also become contractors who pursue contracts on the corridors of various institutions.
"For any judiciary to function effectively, it must have a passion for justice. It must, in significant terms, be fiercely independent and imbued with a high sense of integrity," the CJ stated.
She observed that the lack of these two critical values was bound to undermine the judiciary's credibility and seriously erode its legitimacy.
"Being independent does not mean judges have free rein to do as they please; in other words, that they are not accountable to any one," she explained.
She reminded staff of the judiciary that they were accountable to the public they serve and in whose name the judiciary administers justice, stressing every judicial officer subscribes to an oath of office.
She said this enjoins the officer to act impartially, not to engage in a conduct that can impugn their personal integrity or that of the judiciary.
"What has come to be known as the Bangalore Principles of Judicial Conduct was developed with the aim of strengthening judicial integrity. It has six core values that should guide the exercise of judicial powers, which includes independence, impartiality, integrity, equality, propriety, competence and diligence."
She said the Bangalore Principles also offer a guide to addressing the gaps in specific considerations and situations of which judges should be aware in order to ensure public trust and confidence in the administration of justice.
The CJ as well noted that the requirement of integrity also extends beyond the Judge to other staff of the judicial service, particularly court clerks, bailiffs, records officers, accounts staff and others.
She revealed also that the Judicial Service is seriously beginning a programme of case management in the courts.
This, according to her, would help strengthen confidence in the judicial process and mitigate the need for disputants to resort to extra-legal means in the resolution of their disputes.
In an address, the acting USAID Ghana Mission Director, Larry Dolan, who represented the US Ambassador, Pamela Bridgewater, noted that combating corruption had become one of the main concerns of government throughout the increasingly interdependent global community.
He said the US government assists Ghana in its efforts to consolidate democracy through linkages among local governments and citizens to allow sharing of ideas and best practices.
"A country could only succeed in fighting and eradicating corruption through long-term political and economic stability and an active society."
"Stability facilitates the establishment of strong norms and expectations for individual performance; similarly the existence of an energetic civil society which demands responsiveness on the part of government officials, which is a critical factor in maintaining governmental integrity," he added.
The seminar was attended by civil representatives from Ghana, Liberia, Mali and Nigeria.
By Linda Tenyah